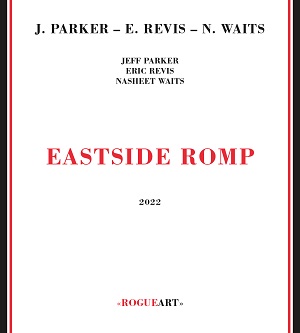 8 September 2022
Guitarist Jeff Parker has made quite a name for himself in the past several years as a genre-blending, if not genre-ignoring, solo artist, and that's after a long tenure as axeperson for indie rock gods Tortoise. As a jazz-trained player, however, he's rarely shown that side of himself in a pure light. Joined by drummer Nasheet Waits and bassist Eric Revis, improvised music vets both, Parker lets his hair down stylistically on Eastside Romp, and indulges in a good old-fashioned blowing session.
The trio sets the scene right off the bat with "Similar Limits," a structure-rattling tune from the book of avant-garde sax hero Marion Brown. Each player goes for it, sounding almost like each is playing a different tune, but it doesn't take long to grok how they're listening to each other – even if it doesn't seem like it at first. "A Room For VG" keeps the volume down and the energy moderate, though composer Waits swirls around the beat like Paul Motian after his third cup of coffee. Setting off on a nervous roil, the rhythm section sticks together on Revis' "Drunkard's Lullaby," letting the skronk come from Parker's effects-laden stabs and drones. The title track again keeps the rhythm partners in sync, but lets Parker roam free across the scale and his own pedalboard.
The musicians don't just storm away all the time, of course. Despite nodding to an old Mahavishnu Orchestra album with its title, Waits' "Between Nothingness and Infinity" mixes elements of Middle Eastern tonalities and minor key blues into an atmospheric track that keeps the temperature deftly on simmer. Parker's ballad "Wait" bakes in plenty of beautiful melody, and comes frosted with an incredible bass solo from Revis. Parker again leads on closing track "Watusi," playing clean modal lines over a fractured but steady swing groove from Revis and Waits.
Amazingly, this session was recorded way back in 2016 and mixed in 2018, seeing the light of day on ly now. Given Parker's reputation in the last twenty-odd years for expansive music, not to mention the busy careers of Revis and especially Waits, maybe it just didn't seem like the right time for release when it was conceived. But with music this well constructed and performed, any time sounds like the right time for an Eastside Romp.