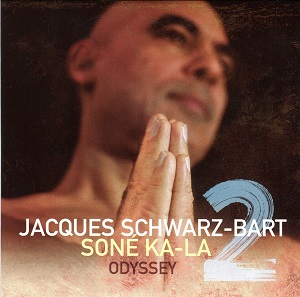 7 July 2021
For his eighth album, Jacques Schwarz-Bart draws on a wide range of experience. Growing up in Guadeloupe, a set of islands in the French Caribbean, the multicultural saxophonist can claim French, German, Polish and Jewish heritage as well. His ethnic makeup aside, he's also recorded and toured with D'Angelo, Erykah Badu, Roy Hargrove and Me'Shell Ndegeocello, among others. On previous albums he's covered everything from post bop to Jewish liturgical music. The man's been around, in other words.
For Soné Ka-La 2: Odyssey, a sequel to his 2006 LP Soné Ka-La, Schwarz-Bart takes inspiration for the Gwoka traditions from his youth growing up in Guadeloupe. That doesn't mean, however, that he's taken traditional melodies and rhythms and added jazz sax over them. Instead he incorporates those traditions into his post bop fusion for a set of tracks that groove hard while being lighter than air. Bassist Reggie Washington, drummer Arnaud Dolmen and ka drummer Sonny Troupé blend Gwoka, swing and soul into a percolating rhythm that's as much feet-itching as performance-inspiring. Schwarz-Bart and singer Malika Tirolien soar over the rhythm section like birds on gusts of wind, often doubling up on the melodies for more lush textures, especially when the leader adds effects to his agile sax lines. Keyboardist and MVP Grégory Privat fills in the blanks by adding atmosphere, creating counter-melodies, and generally bringing the song to new heights with often-subtle contributions. Together, the entire ensemble flies.
Check out the beauteous "Love Will Win," the swirling "New Padjanbel" and the funky "Ron Jack" for the most full realizations of Schwarz-Bart's vision. But the entire Odyssey of Soné Ka-La 2 is worth taking.