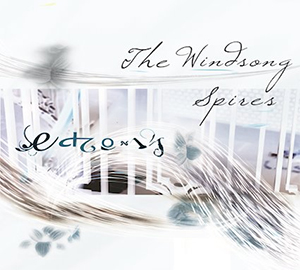 6 July 2021
Like the primeval thunderstorms of Stravinsky's Rite of Spring, the music of Echo Us scratches an ancient itch deep in the back of the listener's subconscious. It is familiar yet completely alien, influenced by classical sources yet utterly modern. This part-progressive, part-ambient project of Portland-based musician Ethan Matthews is indebted to artists like Enya and Vangelis, but it so effortlessly blends sounds and styles from all time periods (past, present, and ostensibly the future) and regions of the world, that it is impossible to definitively pinpoint their music to any one genre. It is safe to say that there is nothing out there today that is exactly like Echo Us or their new album The Windsong Spires.
The album is at its finest when Matthews truly untethers himself from the confines of traditional pop structures. The opening track, "We Seek the Descending Levers," is a perfect example of this, as like the turning of a radio dial, bits and pieces of different styles waft in and out until it builds to a rock crescendo. But even then Echo Us is using pop conventions for its own ends, not the other way around, and the group never becomes indebted. From the ambient soundscapes of instrumentals like "The Night Sky" to Charlotte Engler's otherworldly vocalists that seem to float in from some far off bell tower on songs like "And Acquiesce," Matthews has crafted nothing short of his own artistic universe.
The Windsong Spires is full of experiments and ideas, and because they all largely succeed, the level of ambition palpable here is breathtaking.