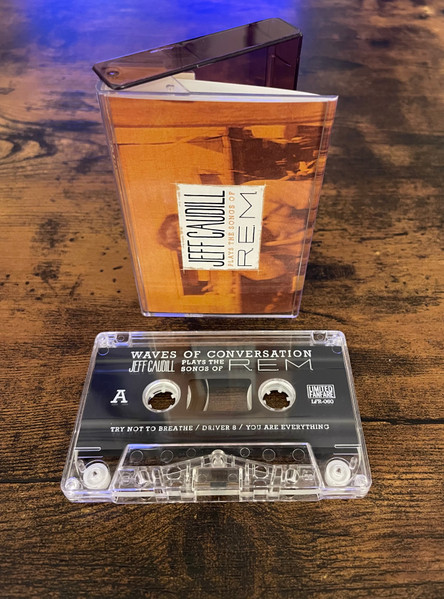 22 November 2022
Originally recorded in 2017 for the U.K. organization Musicians Vs. Cancer and released as a 10" EP by the New York record store/label Limited to One in 2018, this six-song R.E.M. covers collection from the long-time Orange County singer/songwriter known for Gameface, Your Favorite Trainwreck, and now Low Coast along with his own solo work has now been released on cassette by the Limited Fanfare label. With only 100 copies made and housed in a "smokey clear Norelco box," it's a pretty package, but most importantly, it gives fans another chance of getting these covers in a physical format since the 10" is long sold out.
Arrangement-wise, everything is reduced mostly to guitars and voice here along with the occasional keyboard, percussion, and backing vocals (mostly played by Caudill himself with contributions from Michael Bains, Gabrielle Allen, and Jeff's daughter Melody Caudill), showcasing the fact that these songs work well in a stripped-down "solo" or band context.
Quieter material like "Try Not to Breathe," "Hairshirt" and "You Are the Everything" is covered here alongside full-band rave-ups like "Driver 8" and "The Great Beyond." The melodies are true to the originals and Caudill's voice channels R.E.M. singer Michael Stipe on a few occasions while retaining its own characteristic clarity and wistfulness. The most obscure song covered here is perhaps "Good Advices," a deep album cut from 1985's Fables of the Reconstruction, perhaps forcing even careful listeners to examine the often overlooked original version.