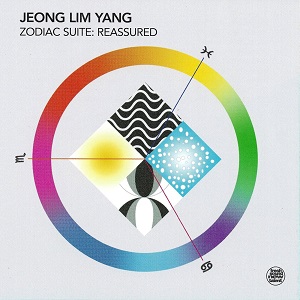 16 December 2022
Pioneering pianist, arranger and composer Mary Lou Williams may have gone unappreciated in her time (the swing era), but her particular brand of genius has found new adherents in the last twenty-plus years, both famous and non-. There are a few tribute albums floating around (most notably Dave Douglas' 2000 disk Soul On Soul), but none so ambitious as Jeong Lim Yang's Zodiac Suite: Reassured. The Korean-born/NYC-based Yang takes on Williams' expansive, astrology-based suite with pianist Santiago Leibson and drummer Gerald Cleaver, and manages to both pay tribute to the composer's adventurous spirit and inject her own essence into the songs.
As an artist, Williams was in some ways a product of her era, with tunes grounded in melody and swing. Yang clearly loves both of those things, but she keeps her ears and influences further open, as befits a musician from a (much) younger generation. While Leibson naturally carries most of the melodic load, Yang interjects her own low-thrumming harmonic ideas, and Cleaver makes his presence felt outside of mere beat-keeping. Yang leads the band close to the melodic pocket on "Pisces," a piece that closed the original album, but then moves them out into the postbop wilderness for "Aries." Highlighting Leibson, Yang takes the trio into the darkest but richest of clubs for "Cancer," then throws the spotlight on Cleaver for the rousing, alternatively noisy and stately "Leo." The blues meet free jazz, loudly and messily, on "Scorpio," while "Sagittarius" revolves around a classic walking bass without hemming itself into the rhythm.
After finishing the original suite with the groovy and eclectic "Aquarius," Yang concludes the album with "Madam, Thank You, Madam," an original work dedicated to her muse that encompasses beauty, chaos, and the states in between. It's a track – and album – that proves not only how much Yang loves Mary Lou Williams, but how much she's learned from her as well.