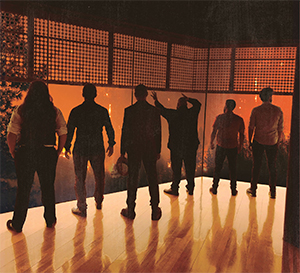 12 April 2019
San Francisco's Joan Torres's All Is Fused is back with another powerful selection of Progressive Latin Jazz. Their fourth album, Revolution is set to be released later this month, and here, the focus as always is clearly on Torres's virtuosic, continually innovating bass playing. It forms the bedrock of every song, and it is the focus around which the other instruments improvise. Torres actually ditched his traditional Fender Jazz Bass for different basses instead, forcing him out of his comfort zone, and it adds to the feeling that Revolution not only builds on their previous albums but considerably shakes up their sound as well.
Each song demands your complete attention, because although the band always maintains a high level of ingenuity and intensity to their playing, they allow themselves the space and breathing room for their sound to slowly unfold. "Moving Mountain" for example is their longest track at eleven minutes long, but half of that is spent building it up or moving the mountain, so to speak. Songs like "Barriers" and "Rebellion" sound as if King Crimson recorded a lost jazz album, and the last track "Finale" feels like an emotional, pronounced culmination of what the band has been working toward for four albums.
Whether Revolution is a beginning of something new, an ending of the band's old style, or a transition between the two, it certainly remains Torres's most finely executed statement yet, and ends with the exciting open question of what will follow.