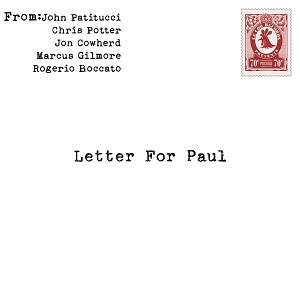 11 May 2021
Bassist Paul Jackson was the original low-end groover for jazz titan Herbie Hancock's Headhunters, laying down those inimitable basslines for "Chameleon" and the classic's other tracks. Following that 1973 milestone, he spent the rest of the seventies continuing to perform and record with Hancock, before moving to Japan. Jackson died in March of sepsis, just short of his 74th birthday, prompting one of his acolytes to release this tribute.
John Patitucci has his own long career, starting with Chick Corea in the eighties and continuing on as the long-running bassist in the recently-retired Wayne Shorter's quartet. He also has a bucket of solo albums, ranging from traditional acoustic sounds to jazz funk. The latter is what rules on digital single "Letter For Paul," which does indeed evoke the sounds of the seventies in its tribute to Jackson. Patitucci lays down a serious groove, the kind that calls just enough attention to itself to be memorable, but doesn't dominate the track. Drummer Marcus Gilmore and percussionist Rogerio Boccato aid in keeping the rhythm percolating. Saxophonist Chris Potter takes the lead on the melody, not only with the head but also as main soloist, while Jon Cowherd's warm electric piano colors everything in a golden glow.
The song is more than just a tribute to a bygone era – it's a delicious meal in its own right. "Letter From Paul" is good enough that one hopes this ensemble takes it further than just a single, as few would mind an entire album in this spirit.