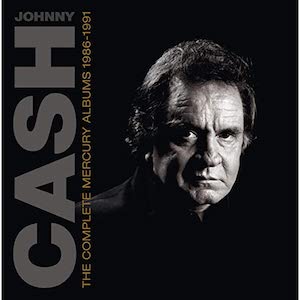 29 July 2020
Prior to his partnership with producer Rick Rubin, who oversaw a creative rebirth for The Man in Black on a series of stark, emotionally raw albums, Johnny Cash had a commercially disappointing run with Mercury Records. While the music tends to get short shrift – and is nowhere as ambitious as what followed – there's still plenty to enjoy on the seven-disc set The Complete Mercury Recordings 1986-1991.
By the time he arrived at Mercury, Cash's place in history was secure, thanks to his monumental records for Sun and Columbia. And he knew it. The overall feeling on these six albums is one of fond nostalgia, an easygoing affirmation of his legacy, with some interesting new work crafted along the way. Class of '55: Memphis Rock & Roll Homecoming matches him with fellow Sun alumni Jerry Lee Lewis, Roy Orbison and Carl Perkins, who perform separately and together in a genial trip down memory lane.
On a similar note, Classic Cash: Hall of Fame Series offers new renditions of his best-known tunes, such as "Folsom Prison Blues" and "Ring of Fire," but isn't nearly cheesy as that suggests. Cash is in fine voice and seems to be enjoying himself thoroughly, making this a good overview of the man's work to date for beginners. A separate disc of Early Mixes provides a less-produced version of the album, though it isn't dramatically different.
Water from the Wells of Home employs another standard career-stretching ploy, with Cash joined by an A-list cast of guests, among them Emmylou Harris, The Everly Brothers, Waylon Jennings, daughter Rosanne, Glen Campbell and even Paul McCartney, to agreeable if undemanding effect. The highlight is "The Last of the Drifters," co-starring kindred Nashville oldtimer Tom T. Hall.
The other three albums are the most satisfying. Johnny Cash Is Coming to Town features an Elvis Costello song ("The Big Light"), a charming take on "16 Tons" and the vivid reminiscence "The Night Hank Williams Came to Town." Referencing his trademark sound, Boom Chicka Boom contains the comic tale "A Backstage Pass," an environmental lament ("Don't Go Near the Water") and another Elvis Costello song ("Hidden Shame"). The Mystery of Life, his swan song for the label, is the standout, and includes "Wanted Man," co-written by Cash and Bob Dylan, "I'll Go Somewhere and Sing My Songs Again," another stirring duet with Tom T. Hall and "The Hobo Song," a John Prine cover. From 1993, the bonus track "The Wanderer" pairs him with U2 on a subdued adaptation of that band's epic approach.
For non-hardcore listeners, the standalone release Easy Rider: The Best of the Mercury Recordings offers a solid overview of this overlooked chapter in his career, but leaves out a lot of good stuff. Even lesser Johnny Cash ought to be heard, because, after all, it's Johnny Cash!