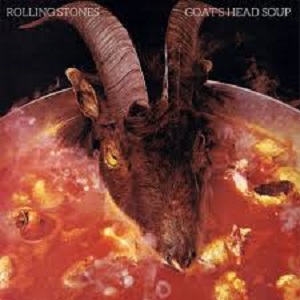 24 July 2020
"I really feel close to this album, and I really put all I had into it.." – Mick Jagger 
Released on September 4th, another Stones album gets the deluxe treatment. It is a very deserving opportunity that is executed lovingly, to celebrate this sometimes overlooked classic. And that is the crux that is Goads Head Soup. The 1973 album never fully garnished the appreciation it was due, and it is easy to understand why. 
There is one thing that The Stones achieved in the late sixties, and the early seventies, that set them apart from others, they grew hungry. Hungry for success and more importantly to prove themselves. It began with the '67 release of Their Satanic Majesties Request…, an album hammered (unfairly) by both critics and fans. That low point, along with the withdrawal of the late Brian Jones fed the Stones creativity, fuelling them to create Beggars Banquet and Let It Bleed. Although starting the seventies with the seminal live album Get Yer Ya Ya's Out the best was still yet to come. The 1971 Sticky Fingers marked the end of Decca and a new beginning under their own label. Then came the mammoth sweat, drugs and blues soaked Exile On Main St., anything they released after that album, was always going to be viewed as inferior. And that is the faith of Goats Head Soup.
Released over a year after Exile On Main St., Goats Head Soup did not stack up to the prior release well, and critical reviews were mixed. Truthfully, in places it is a superior record. Bangers such as the Chuck Berry inspired "Star Star", the voodoo styled opening "Dancing With Mister D", and the number one hit ballad "Angie" are all on par with Exile.. numbers. But then there are times Goats Head Soup transcends what they did in the past. A prime example, the wah-wah funk of "Doo Doo Doo Doo Doo (Heartbreaker)", and the dynamic "100 Years Ago". 

The record also acted as a dividing line in the Stones career. It was the last album produced by
Jimmy Miller
, who single handedly created that golden era sound, producing those previous five albums. It was also the first album since
Their Satanic..
not to include a cover version, proving their creativity, as with their musicianship, was at a high point. From here things went downhill for the band, with only moments of greatness, and not full works such as this. 
So, a fully established retrospective such as this is well needed. Although the album has received numerous remasters over the years, it gets another overhaul. But, unlike last year's Let It Bleed boxed set, which gave listeners only a stereo and mono mix, this set goes that extra step further, and that is welcomed. In the lavish vinyl box, you get the original album on one slab, plus a further ten bonus tracks on another. These include instrumentasl, Glyn Johns mixes, and three new(ish) tracks, including "Scarlet" (included below) with Jimmy Page, "All The Rage" and "Criss Cross". 

These new songs are pretty decent, if not a little raw around the edges, and "Criss Cross" should definitely have made the original cut. But, the real meat on the bones is the last two slabs of vinyl. These are made up of the heavily bootlegged
The Brussels Affair
, recorded live at the Forest National Arena in October 1973. It is a brilliant time capsule, capturing a band at the very height of their powers before addiction and egos took over fully. The fact it should have been released at the time, is shamefully evident. It is a superior live recording to the ill-fated 1977
Love You Live
album. Also worth noting, there is no "Satisfaction" or "Under My Thumb", it consists of tracks from '68 onwards. 
Apart from the vinyl deluxe set, there is also single and double cd editions, along with a 3CD+blu-ray package which contains a 5.1 surround and
Dolby Atmos
mix. So there is enough
Goats Head Soup
to go around. It is not an anniversary release, so the question as to why? doesn't really matter. 
TRACK LIST
2020 Stereo Mix
SIDE A
1. Dancing With Mr D
2. 100 Years Ago
3. Coming Down Again
4. Doo Doo Doo Doo Doo (Heartbreaker)
5. Angie
SIDE B
6. Silver Train
7. Hide Your Love
8. Winter
9. Can You Hear The Music
10. Star Star
Rarities & Alternative Mixes
SIDE C
1. Scarlet
2. All The Rage
3. Criss Cross
4. 100 Years Ago (Piano Demo)
5. Dancing With Mr D (Instrumental)
SIDE D
6. Heartbreaker (Instrumental)
7. Hide Your Love (Alternative Mix)
8. Dancing With Mr D (Glyn Johns 1973 Mix)
9. Doo Doo Doo Doo Doo (Heartbreaker) – (Glyn Johns 1973 Mix)
10. Silver Train (Glyn Johns 1973 Mix)
SIDE E – 'Brussels Affair – Live 1973'
1. Brown Sugar
2. Gimme Shelter
3. Happy
4. Tumbling Dice
SIDE F – 'Brussels Affair – Live 1973'
5. Star Star
6. Dancing With Mr D
7. Doo Doo Doo Doo Doo (Heartbreaker)
8. Angie
SIDE G – 'Brussels Affair – Live 1973'
9. You Can't Always Get What You Want
10. Midnight Rambler
SIDE H – 'Brussels Affair – Live 1973'
11. Honky Tonk Women
12. All Down The Line
13. Rip This Joint
14. Jumpin' Jack Flash
15. Street Fighting Man