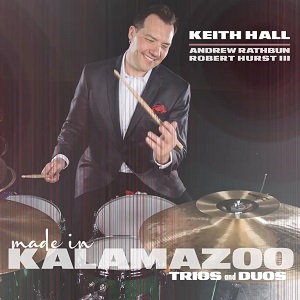 20 June 2022
Drummer Keith Hall has a diverse resumé: Betty Carter, Sir Roland Hanna, Kenny Wheeler, Janis Siegel, New York Voices, TRI-FI and several years with singer/saxophonist Curtis Stigers. Now fifteen years settled in at Western Michigan University as a music professor, Hall has finally gotten around to making his leader debut. As the subtitle indicates, Made in Kalamazoo (Trios and Duos) features the skinsman in duo and trio settings, the former with woodwinds player and fellow WMU teacher Andrew Rathbun and the latter with legendary bassist Robert Hurst III (best known for his work with the Marsalis Brothers) joining the pair.
The record bifurcates into sections designated by lineup. The eight trio songs reveal a comfort with and mastery of the chordless jazz aesthetic, whether romping through postbop ("Boiling Pot"), hard bop ("Well of Hope") or funk ("The Promise)". As collective improvisations, the duo cuts flow much more loosely, with more experimentation. Rathbun adds live electronic processing to his playing, like the wah-wah on his horn in the New Orleans funk of "Get Up Get Out," the unsettling effects added the march "Lakeside" or the layered loops of the atmospheric "Young Man's Game." The pair are also happy to drop the electronics and simply go for it, as on "Sweep" and "My Man!"
Hall also gets some solo time, dividing the "trios" and "duos" section with "Interlude," and opening and closing the record with tributes to Billy Hart ("Be Curious") and Max Roach ("Thank You, Max"). Given the twenty tracks (many of which reference local history and landmarks) and a length of nearly seventy minutes, Hall clearly had a lot of music in him that needed to get out. Fortunately, he and his buddies have enough going on to keep Made in Kalamazoo interesting throughout.