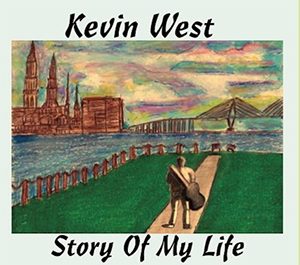 30 May 2019
Los Angeles singer-songwriter Kevin West is back with a new EP Story Of My Life an overdue follow up to his last album from 2015, Once In A Lifetime. While his previous release combined jazz chords, hip hop beats, and comedy skits, the songs here are stripped back to their roots with a sound that combines influences like Dave Matthews and Lou Reed. Some artists distance their lyrics from anything based in reality while others deny that which is clearly autobiographical, but West wears his heart on his sleeve and his lyrics are proudly based upon his real life experiences.
The ticking clock and the desire to change or strive for a better life are common themes on songs like "Best of Mine" and "One Too Many," creating an urgency and an angst to the mood that is at once both hopeful and skeptical in tone. There is also an undercurrent of sweetness and an endearing innocence that bubbles effervescently to the surface on "My Only Sunshine," the EP's outright love song, and West's ethos is best characterized in the smoky jazz of the title track, "Story Of My Life." It's not an egotistical imposition, but a down to earth song for himself, and we happen to listen along, that's fine too.
Story Of My Life is out June 15, and although short, it might just be West's finest and most mature statement as an artist yet.