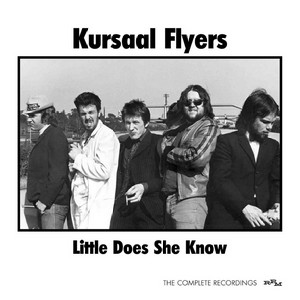 2 August 2020
Kursaal Flyers were an integral element of the 'Thames Delta' music scene emerging from the late 60s clubs into the bright lights of the 1970s pop world. Alongside contemporaries, and in some cases old schoolmates, in bands such as Dr Feelgood and Eddie & The Hot Rods, the Kursaal Flyers (named after a Southend amusement park carnival float) were a regular fixture on the Pub Rock and College circuit of 70s Britain. Their sound covered a gamut of styles (including reggae) from R&B to Country Rock, unlike bands from the same scene. They also had a sense of humor, as evidenced by material written by Will Birch and Graeme Douglas.
This is the first time the complete recordings have been digitally remastered and available in one place. The set includes a 24 page booklet with an essay on the band's history, penned by none other than Will Birch. Photos and memorabilia were drawn from the archives of Will Birch and Richie Bull. From the get go, the Flyers seemed on the verge of success, as they secured a booking agent, recorded a John Peel session, and were offered a major record deal as well as a tour supporting The Flying Burrito Brothers. It seemed like after only a short time on the pub rock scene, they were poised for stardom. These guys were all highly talented players, which is patently obvious when you slide through these songs.
The first disk contains two complete albums that were created for Jonathan King's UK Records label in 1975 (Chocs Away! and The Great Artiste). All the songs are greatly enhanced remixed versions from 1991. "Pocket Money" starts things up, and it's a fun story to be sure. The lyrics here and elsewhere are clever and tongue in cheek. "Hit Records" is equally fun, and then silliness ensues on "Kung Fu", which has a nifty reggae beat. Not what you'd expect from a group who focused on country tinged rock and roll. "Tennessee" also contains some memorable lyrics, such as 'Chet Atkins ain't the only saint who ever picked guitar, And I'm gonna be a long-haired country star'. 'Speedway' is another great tune, as it percolates along with some fine steel guitar and harmony vocals. "Now I'm Back" is the perfect slow dance, while "Silver Wings" is another beautifully chill country tune. Moving on to The Great Artiste, we are presented with the dry humor of "Ugly Guys", which has a rather nice lead guitar line. I actually here a bit of Dylan influence in "The Great Artiste", but that may just be me. 'Cruisin' For Love' was thought to be a potential hit, with its toe tappin' rhythm and a bit of bluegrass styling in the mix. Very nice! "Hypochondriac" has a reggae beat and it's a fun listen. "Television" is a Nick Lowe cover that sure reflects the times when the song came out, and discusses an obsession with TV.
Disc Two starts off with the excellent pop of "Little Does She Know", which may remind you of The Move. Good lyrics and a lovely arrangement. Of course, there is an amusing back story to this song. The song was brought to life as a waltz-time country song, but was then reimagined as a Phil Spector-type production, complete with the London Symphony Orchestra and a British Army marksman shooting off blanks in time to the music. The studio quickly filled with smoke and the gunshots were slowed down to simulate cannon fire. The song became their biggest hit, entering the Hot 100. The band loved hearing their song played multiple times a day on Radio One and it scaled the Top 20. The band also was on Top of the Pops, but despite all this, they lost one of their primary songwriters, Graeme Douglas, to Eddie and the Hot Rods. "Two Left Feet" is a really swell slice of orchestral pop, and "Radio Romance" is also engaging. "Little Does She Know (Edit)" is reprised, and as I dig deeper into the tune, I also hear hints of The Hollies in the vocal turns. "Girl Talk" is an odd piece, featuring a flute playing an overly familiar disco tune, and that leads into the previously unreleased, quite poppy track in "The Questionnaire". "Revolver" closes out this disk, and it's a classic, four to the floor Chuck Berry backbeat.
Disc 3 is their live album recorded at The Marquee Club, which was released by CBS in 1977. It illustrates the power of the group's live show, and the country rock they started out with is backgrounded in favor of snappy rock and roll beats. Long time fans will not be disappointed by the quality of this recording, the energetic performances, or the song selection. "Crusin' For Love" is a highlight, as is the aforementioned "Little Does She Know", which lacks the pomp and circumstance of the studio version, yet lacking none of the charm of the original. "TV Dinners" is tons of fun, and picks up some of the punkish energy that was becoming increasingly commonplace in the British rock scene. "Revolver" live reminds me a lot of The Flamin' Groovies, who mined a similar vein of rock and roll around the same time as these guys. The Flyers then trot out three great covers: Mike Berry's "On My Mind", Arthur Alexander's "Anna (Go To Him)", and The Easybeats' "Friday On My Mind". "Television Generation" is one of the extra tracks, and It definitely encompasses the punk rock that was so popular at the time, and is not only an early example of power pop, but it also provides hints of what was to come with The Records. "Girlfriend Kinda Guy" is equally good, and another finely rendered tune. And finally, an unreleased, early version of "Girls That Don't Exist" that became a hit for The Records. It is an historical footnote, but also a raw and very cool version of a wonderful song.
The final disk came out in 1988, and the band's country rock influence is never far from the surface. The song production is pristine, and these songs would not be out of place on modern independent radio. Given the horrible state of commercial radio, at least in the US, these tunes would have no place, but on college/public radio and Internet radio, these would do well. The opening tune "If You Would Only Talk To Me (Like You Talk To The Dog)" is a strong opening, with excellent musicianship. "Pre-Madonna" has the requisite harmonies and power pop strut, coupled with some clever lyrics and a cute play on words in the title. "Man in Mohair" is a straight up rocker, while "Luxury Lane" laments on tough times, which we all can certainly relate to with what is going on in the world. "Paranoid Weekend" may remind you of Dire Straits, mostly from the guitar work. Good times! "Old Men Need Some Lovin' Too" has a galloping beat and is an infectious listen. "Cruisin For Love (remake)" has a lead banjo and acoustic guitar, and is a neat alternate version. Other highlights include a cover of "Foggy Mountain Breakdown" by Earl Scruggs.
In summary, this is a worthwhile collection of recordings by a band who should have made more of a dent on the charts. They certainly had the collective talent, both as musicians and songwriters, and to this day, I certainly can appreciate their dry wit. Thanks for putting this out, Cherry Red, and for Will Birch's thoughtful and often funny liner notes.
Pick up the album at the usual outlets, or directly from Cherry Red Records.
Read up on the band over on Facebook.