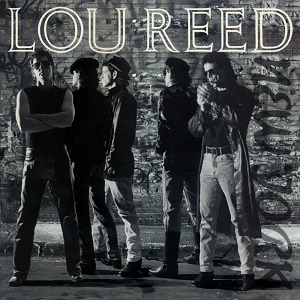 31 July 2020
It's very simple, Lou Reed is greatly missed. The dark prince that stalked New York City is the type of figure we will never witness again. Any time a posthumous release, or a new remaster comes along, we approach it with skepticism. The weighing of its necessity is always a cause of debate. His mind blowing work with the innovative Velvet Underground is always warranted a reissue, be it 40th, 45th, and even 50th anniversary releases. All have been celebrated with extensive track listings, mono-stereo mixes and of course lavish packaging (peelable bananas). 
The problem is, Lou Reed's post-Velvet's work can be hit-and-miss, and that is coming from a fan. For example his debut, the self-titled '72 release, presented little in the way of the venomous Reed known prior. The Bowie / Ronson produced follow-up Transformer faired better, containing some of his best compositions ("Perfect Day", Satellite Of Love"). But the follow ups are a disappointing affair. Berlin is a classic, if not hard work emotionally, Sally Can't Dance charted high although it is pure head candy without an edge. And then there is Metal Machine Music. A work of art or a music industry slap in the face, it did not sit well with fans of the man who wrote "Heroin". 
Nevertheless, Lou Reed kept producing music, and at times exceeded expectations, especially with the live album format, noting Rock And Roll Animal. As the eighties dawned, things got off to a pretty good start with The Blue Mask and Legendary Hearts, but Mistrial in '86 may have been too much of the eighties sound and not enough of the danger that Reed could inject into his work. Then things changed, and Lou Reed released an album which became a career highlight, with the 1989 release of New York. 
This was the album that changed Reed's career, and put him on a path of consistent quality releases for the remainder of his life. It really is an epic piece of work. Within these  finely crafted songs, Lou Reed managed to tear away the Velvet Underground's legacy from his own muse, and point in a new direction. New York is a solid song cycle that pulls the listener into Reed's hunting ground, and keeps them there enthralled and entertained within the lyrics. From the stuttering guitar opening of "Romeo Had Juliette", to the contrast of poverty and wealth in "Dirty Blvd", to "Halloween Parade" and "Busload Of Faith". It is adult rock and roll, every song points forward, and New York becomes more cinematic than any of Reed's previous adventures. 

It is an album worthy of a revisit, if not an overhaul of sorts. After nothing last year for the 30th anniversary, it seemed like the opportunity was missed, and then this happened. Thankfully, courtesy of
Rhino
comes a massive deluxe edition on September 25th. A hardback book set contains two slabs of vinyl, three compact discs and one
DVD
, it is a salivating prospect. 
This set includes liner notes by
David Fricke
, and essays by archivist
Don Fleming
. The production itself was handled by the late Lou's partner
Laurie Anderson
, Fleming,
Bill Ingot
,
Jason Stern
and the late producer
Hal Willner
. The first disc is the original album remastered, same as on the two vinyl Lps. Following with a second containing a live version of the album in its entirety, taken from various stops on the 1989 tour. The third disc is a plethora of unreleased rough mixes, and cracking early versions of "Dirty Blvd", "Last Great American Whale", and an acoustic "Busload Of Faith". Alongside these is the non-album track "The Room" and two live encore tracks "Sweet Jane" and "Walk On The Wild Side". Then to the
DVD
which is
The New York Album Live
recorded at the Theatre St. Denis in Montreal and a final audio only interview with the man himself. 
It is a very expansive, but mildly expensive set ($90). Though it is wholly worthwhile celebration of a landmark album from one of rock music's most significant figures of the past six decades. 
Tracklist: 
Disc One: Original Album (2020 Remaster)
1. "Romeo Had Juliette"
2. "Halloween Parade"
3. "Dirty Blvd."
4. "Endless Cycle"
5. "There Is No Time"
6. "Last Great American Whale"
7. "Beginning of a Great Adventure"
8. "Busload of Faith"
9. "Sick of You"
10. "Hold On"
11. "Good Evening Mr. Waldheim"
12. "Xmas In February"
13. "Strawman"
14. "Dime Store Mystery"
Disc Two: "New York" – Live
1. "Romeo Had Juliette" *
2. "Halloween Parade" *
3. "Dirty Blvd." *
4. "Endless Cycle" *
5. "There Is No Time" *
6. "Last Great American Whale" *
7. "Beginning of a Great Adventure" *
8. "Busload of Faith" *
9. "Sick of You" *
10. "Hold On" *
11. "Good Evening Mr. Waldheim" *
12. "Xmas In February" *
13. "Strawman" *
14. "Dime Store Mystery" *
Disc Three: Works In Progress/Singles/Encore
1. "Romeo Had Juliette" (7" Version)
2. "Dirty Blvd." (Work Tape) *
3. "Dirty Blvd." (Rough Mix) *
4. "Endless Cycle" (Work Tape) *
5. "Last Great American Whale" (Work Tape) *
6. "Beginning of a Great Adventure" (Rough Mix) *
7. "Busload of Faith" (Solo Version) *
8. "Sick of You" (Work Tape) *
9. "Sick of You" (Rough Mix) *
10. "Hold On" (Rough Mix) *
11. "Strawman" (Rough Mix) *
12. "The Room" (Non-LP Track)
13. "Sweet Jane" (Live Encore) *
14. "Walk on the Wild Side" (Live Encore) *
DVD
1. "Romeo Had Juliette"
2. "Halloween Parade"
3. "Dirty Blvd."
4. "Endless Cycle"
5. "There Is No Time"
6. "Last Great American Whale"
7. "Beginning of a Great Adventure"
8. "Busload of Faith"
9. "Sick of You"
10. "Hold On"
11. "Good Evening Mr. Waldheim"
12. "Xmas in February"
13. "Strawman"
14. "Dime Store Mystery"
Audio Only Bonus
15. A Conversation with Lou Reed
Vinyl Track Listing
Side A
1. "Romeo Had Juliette"
2. "Halloween Parade"
3. "Dirty Blvd."
4. "Endless Cycle"
Side B
1. "There Is No Time"
2. "Last Great American Whale"
3. "Beginning of a Great Adventure"
Side C
1. "Busload of Faith"
2. "Sick of You"
3. "Hold On"
4. "Good Evening Mr. Waldheim"
Side D
1. "Xmas in February"
2. "Strawman"
3. "Dime Store Mystery"
To Pre-Order: 
Website