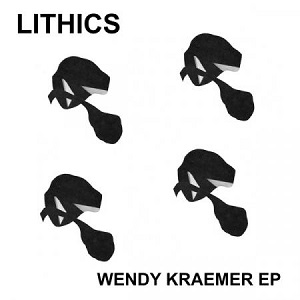 28 December 2019
There is a misconception that modern-day music is not like the days of old. That bands and artists do not take risks, keeping their output safe for mainstream consumption. However, this release by LITHICS, the sons of Portland, Oregon, turns that idea completely on its head, and provides a breath of fresh air to those audiences seeking adventure. The Wendy Kraemer EP was originally released by LITHICS as a homemade tape that accompanied them on their 2017 tour, since then it has grown in popularity. The Ep became a rarity, a cult piece of musical prowess, that will be put right on February 7 next, as The Wendy Kramer Ep becomes available on vinyl via Moone Records. 
This is a fascinating piece of art, pulled from under the floorboards where Zappa and Beefheart once thread. It is modern experimentation, forged in a cauldron of influence while retaining an originality which makes it accessible…If not addictive. This musical mutation of brilliance combines many influences amongst a post-punk foundation, and sizzling with a raw honesty. 
Split between two tracks, respectively "Side A" and "Side B". It detonates proper with some energetic, and hypnotic riffs, that lodge themselves into your brain. A sonic old-school approach, dragged kicking and screaming into the 21st century. With a jazz-tinged subversive  sound that twists in different directions, over which half-spoken lend themes to the rampant rage. As the improvisation blasts through the woofers the audience is not allowed to draw breath. 
"Side B" continues to travel in the same jam stratosphere, with ideas that would cohese into further releases. Journeying along a myriad path, free from commercial restraints, and wholly a product of expressionism. Lastly, and a point to note, this is a 500 piece run worldwide, it deserves to be celebrated, in some circumstances even revered for what it is- daring, and unapologetically risque in a world of monotonous meanderings. 
LITHICS; 
Bass – Bob Desaulniers
Drums – Wiley Hickson
Guitar – Mason Crumley
Guitar, Vocals – Aubrey Hornor
Tracklist:
Side A
Side B 
Pre-Order via Moone Records; 
Website
Facebook