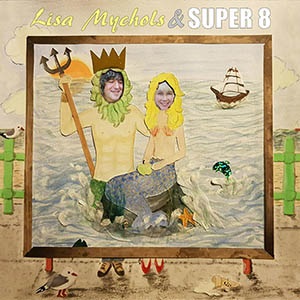 5 July 2020
The world needs music that is uplifting, right now more than any other time this century. Luckily there are artists out there who are creating sounds that inject our moods with inspiring tunes. And that is what is on offer here. The latest collaboration album by the UK's Super 8 and the insanely beautiful voice of Lisa Mychols is due for release on July 22nd, and it is a kiss on a summer breeze that it so badly needed. After last year's single "Time Bomb", we were given a glimpse into the actual chemistry between both artists. How they both compliment each other has naturally laid the foundations for this smiling long-player. 

Before I dig deep into the musical landscape here, there are a few factors to take into consideration. Firstly, that aforementioned down turn in moods does not infect this album. Creating an album in an atmosphere of fear and uncertainty is a very difficult thing to achieve. But, the resilience of both artists has nailed it. Secondly, they are on different sides of the globe, across the Atlantic ocean in fact, and still managed to showcase the possibilities of modern technology. When I sat to write a review of the album I contacted both
Trip
(aka Paul Ryan) of Super 8, and Lisa, to get their take on the achievement.
Trip:
"Yes, it was quite a challenge at times, but a mighty enjoyable one at that! We did have a fair bit to contend with making this album. For example: The concerns everyone has in the grip of a global pandemic for starters! Then there was some major surgery to contend with my end in the midst of it all! We also experienced our fair share of trans-Atlantic file-sharing issues, and technical gremlins along the way plus there was the ongoing 8 hour time difference between us (as Lisa was waking up, I was winding down!) That said, all of the above did nothing to stop us nor curb our combined enthusiasm for this project. (In fact, in hindsight it might have helped in some strange way! It all combined to make us work harder to achieve our goal here – that goal being to produce a great record together!) I'm very proud of what we've achieved here!."
Lisa:
"Not difficult at all, really. We were super connected throughout the whole entire process, yet we had this individual and unique space we could create in. Seriously, this has turned out to be one of the most fun projects I've ever been a part of."
That said, the question of how these artists gel on the recording can be answered simply as perfect. The approach is that of painting a kaleidoscope of hypnotic colours, as both personalities and talent of the artists are woven into a power pop, rockin piece of work. Opening with the cracking harmonies and guitar cranks of "What Will Be", a joyous eruption sets the scene. Experimental, but with those addictive hooks all driven by a flawless production. This is followed by the autobiographical, and solid fun of the sparkling "Trip & Ellie's Music Factory". A melodic banger, that floats upon a wave of talent, with the sweetly soaring voice of Lisa Mychols (Ellie). This guides the way into a
Stones
homage wrapped in a tale of destructive love. "Time Bomb" (featured above), that is just a sweltering slice of power pop, that easily gets lodged in the brain.
The momentum doesn't flounder, it remains energetic, even when the pace pulls back, such as with "You & Me, Me & You". A gentle, flowing piece of music, where the sublime vocals of Lisa dominates the narrative. This moves into the baroque foundations of "The Monkee Song". An overload of string instruments combine to create an atmosphere of attractive sounds, a beautiful refrain before the experimentation becomes even more exotic. The midpoint cracker "Flying Close To The Sun" is a mixing of harmony, and sixties attitudes. A wall of sound creates a breathtaking orchestration of melody, with vocals that are passion-soaked and very real. At times you get the obvious sense that these songs mean something to their creators. 
The lush "Honey Bee" (included above) gets the balancing act on a surfboard back in business. It is the sun splitting through the clouds, washing over the opening harmonies, and firing off the powerful conviction of the vocal lines. Then there is the Trip vocals on "Peaceful". A wholesome slice of Laurel Canyon circa the early seventies before it switches pace becoming a more modern offering. Though that Americana continues into "Witchi Tai To", with its continuing mantra-styled vocal lines, that push forward on top of a strong an ocean of delightful sounds. In truth there really is not a step wrong here, and the songs compliment each other as much as the artists. "Laguna Nights To Remember" strolls along with an acoustic flourish, and "Your Summer Theme" is reminiscent of Nancy Sinatra meets The Mammas & The Pappas. It is a sound skillfully anchored on a Californian breeze. However, the closing "The Arms Of Water" is a masterclass in production and technique. Opening with an unsettling sample of "The big ship sails down the alley alley o", which then collides with backwards sounds, and flourishes of dramatic vocals. Only to switch styles into some subtle, funk bridges above the sound of seagulls.  

Many questions recently are being asked about the survival of the music industry at this time. While clubs, venues and even tours themselves are under threat, the creation of music is not, as this release clearly displays. What's more, it is still possible to create an album that gels perfectly regardless of location. In retrospect, Super 8 and Lisa Mychols have created an adventurous piece of work that is truly cinematic in scale. 
Tracklist;
1.What Will Be 
2.Trip & Ellie's Music Factory 
3.Time Bomb 
4.You & Me, Me & You 
5.The Monkee Song 
6.Flying Close To The Sun 
7.Honey Bee
8.Peaceful
9.Witchi Tai To
10.Laguna Nights To Remember 
11.Your Summer Theme 
12.The Arms Of Water 
For more info and to Pre-Order: 
Website
Facebook
Twitter