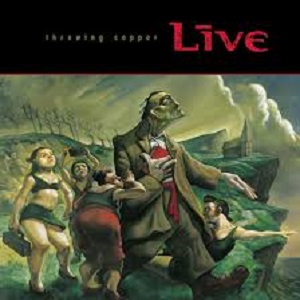 30 June 2019
"Throwing Copper is big songs, big feelings, big dynamics," vocalist Ed Kowalczyk.
It is hard to believe the magnificent Throwing Copper by Live has hit that quarter of a century mark. The slow burner eclipsed every other release, after initially floating in the ether of the music world for a year before it came to prominence. Throwing Copper released on April 26th 1994, was only the second outing from Live, following up their well regarded 1991 release Mental Jewelry. The production by Violent Femmes and Talking Heads producer Jerry Harrison was key to galvanizing that sound which still sounds remarkably fresh. The real catalyst to the album's success of course was that MTV Unplugged performance in February 1995 which lit the fuse on the trajectory of Throwing Copper , and In May of that year it finally hit the top of the Billboard Top 200 album charts.
Then again, for most, this really is the soundtrack of the nineties, the nostalgic foothold back to a carefree time when "Lightning Crashes" dominated the airwaves. Along with the aforementioned track, the explosive "Selling The Drama" also hit the top of the Modern Rock singles chart. The effervescent beauty of Throwing Copper connects with audiences perfectly, and continues to reach new ones.
Which is why what is coming on the 19th July is so essential. Through Radioactive Throwing Copper returns with a much welcomed overhaul and expanded across all formats. That includes the mouthwatering Super Deluxe 25th Anniversary Throwing Copper box set edition. Two slabs of vinyl, two compact discs, and a 12-page booklet with an in-depth interview with Live. The first compact disc includes the original album plus a selection of bonus tracks, "We Deal In Dreams", "Susquehanna" and "Hold Me Up" (Included below). All this is thankfully on vinyl, making up the complete two LP package.
The second compact disc contains the career making Woodstock '94 performance. All eight tracks are previously unreleased, and is something to really get excited about. It is a performance that displays an incendiary band, hungry to make their mark. Featuring seven tracks from Trowing Copper and "The Beauty Of Gray" from Mental Jewelry. The sound quality is excellent, "I Alone" (Included below) is a peek at the quality, rounding off a celebration proper for an album which gained over 8 million in physical sales and achieved a cult-like status.
Throwing Copper is an album which stands up against, and even surpasses most contemporary releases from the nineties. Proving without a doubt how Live were the band of the decade.
Compact Disc Track List;
Throwing Copper: Disc 1.
'The Dam At Otter Creek'
'Selling The Drama'
'I Alone'
'Iris'
'Lightning Crashes'
'Top'
'All Over You'
'Shit Towne'
'T.B.D'.
'Stage'
'Waitress'
'Pillar Of Davidson'
'White, Discussion'
'Horse' (Hidden Track On Original Release)
'Hold Me Up' (Bonus Track)
'We Deal In Dreams' (Bonus Track)
'Susquehanna' (Bonus Track)
CD: Woodstock '94 Disc 2. (previously unreleased):
'Iris'
'Top'
'The Beauty Of Gray'
'Selling The Drama'
'Shit Towne'
'Lightning Crashes'
'I Alone'
'Operation Spirit (The Tyranny of Tradition)'
'White, Discussion'
For more on Live and the anniversary release of Throwing Copper;
Website
Facebook
Twitter
Instagram
YouTube
Woodstock '94 "I Alone";

Bonus Track "Hold Me Up";