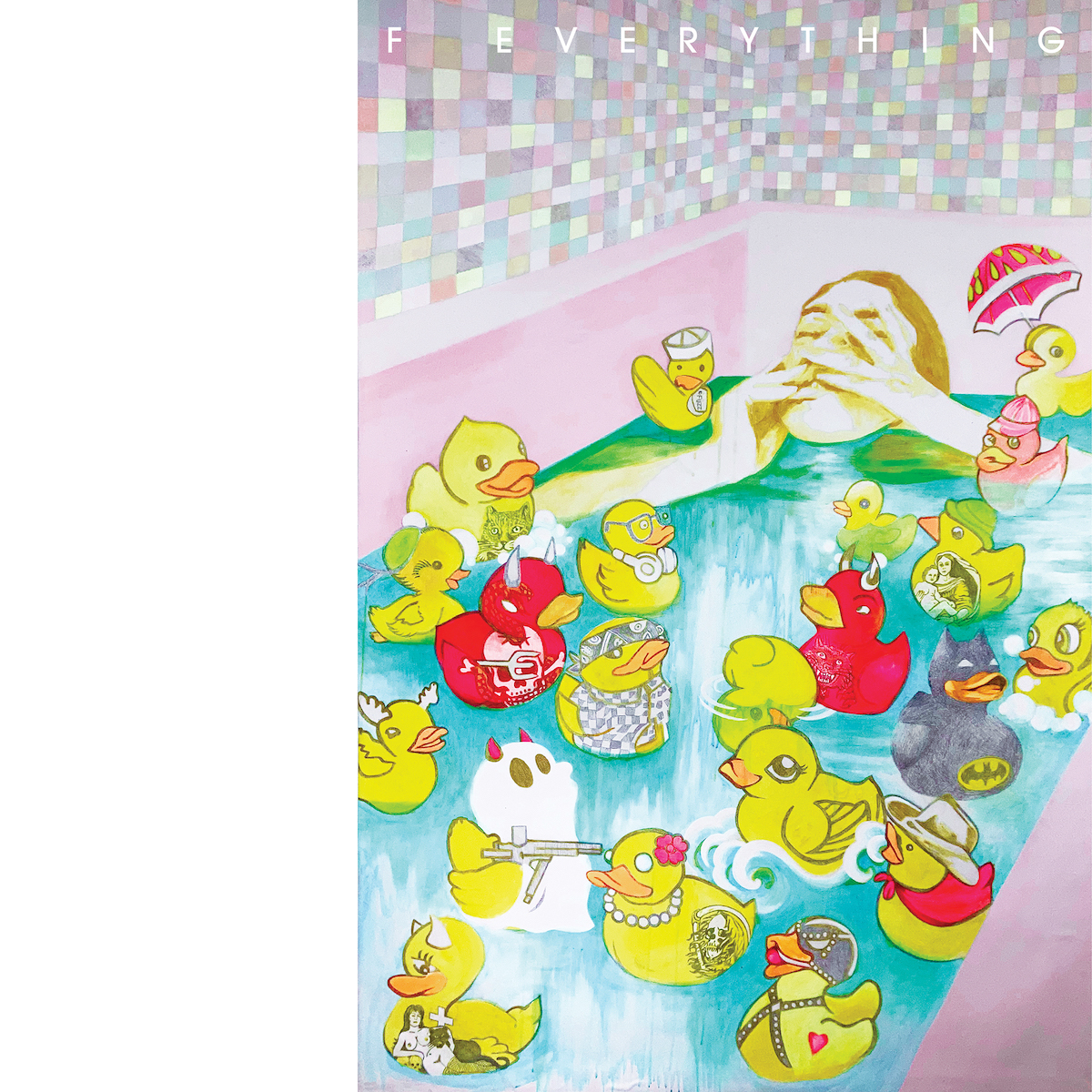 7 March 2021
It's a wonder anything—from personal artistic endeavors to filing one's taxes—gets accomplished outside of being in the band Joan of Arc, the Chicagoan experimental family tree that ended its tenure this past December. The outfit has always doubled as a lifestyle in addition to occupation, requiring not just writing, recording, and touring, but living together (varying on the era) and spending countless nights out at Rainbo Club too. So who has time for side projects? In Bobby Burg's case, his "side project" Love of Everything was once the main project, later becoming a fulcrum of sorts for stepping into his eventual bandmate-described role as co-captain of Joan of Arc. Burg's own material slowed comparatively from that point onward, and the LPs he did release in that span were sprinkled with accompaniment from his new cohorts. Now, roughly a decade after the Sooner I Wish EP, Love of Everything returns with the cassette Echo Frenz.
Burg is no stranger to temporal tinkering. 42 Repeatable Examples, his previous solo release under his name, is a heady yet inventive offering of stems (I think I'm understanding this correctly) for the listener to craft their own headspaces from. Frenz asks much less of your interaction, insisting only that this sequence of songs is to be listened to twice through in a sitting; a request most likely obliged without having to be posed in the first place. Before you're ready for it to end, this rolling assembly of dreamy pop tunes comes to a quick close. It's a bite-sized yet bustling smattering that begs to be repeated. And how nice of Burg to design the tape for optimal repeat-ability: flip the cassette and the b-side will play the very same.
One of his principle instruments after bass guitar in Joan of Arc is a Casio SK-1 which is a type of sampling keyboard that records sounds with a microphone and allows those bites to be represented in different notes. While largely a live show novelty, the device is crucial to songs such as "This Must Be the Placenta" and "Upside Down Bottomless Pit". Burg employs the SK-1 heavily across Echo Frenz, attributing to its most recognizable state in his recent work. Many tracks feature small, packaged, melodic phrases warped into different keys and tones, moving up and down a kaleidoscopic scale, immeasurable due to their psychedelic capability. This pleasant whirlwind effect is a trademark all about the tape best displayed in the dizzying, fuzzy transmissions in "Misery Tomb" and the zero gravity floatation warbling of "Total Life".
Throwing a dart at the Love of Everything catalogue, you will always land on ingenuous, humble songwriting. Since early efforts, he's combined lo-fi aesthetics of The Moldy Peaches if they weren't so mired to a specific time and place with the ageless, outré innocence of Beat Happening's first record. This home to dependable, sweetly sincere music gains new tenants in "Own Best Friend" and "Daily Face Off", two two-minute aural hugs in a year where any kind of embrace is desperately needed. If you close your eyes, you can almost feel your body compact into a cannonball, racing toward the creek from the cliff side. And just like that, it's time to flip the tape again.
Echo Frenz is but one of ten tapes in Joyful Noise Recordings' Gray Area Cassette Series 2021. You may order here.