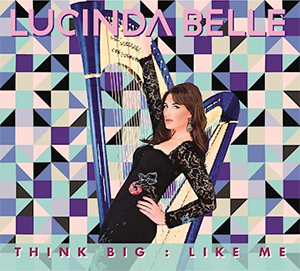 5 July 2019
Lucinda Belle is an artist originally from London who now resides in San Francisco, and she is back with another tour de force of unique and seductive jazz pop. A singer-songwriter cast in the same mold as Amy Winehouse who has worked with everyone from Annie Lennox to Jarvis Cocker, Belle has just released her third studio album boldly titled Think Big: Like Me. Her voice has never sounded stronger or more self-assured, and she brings along with it a stunning new collection of songs inspired more than ever by a more smokey, retro style.
Taking a new direction, Belle went old school for this album and recorded it using vintage equipment from the '50s. Consequently, the songs have a warm and lively feel, but she bridges this gap between old and new effortlessly as on tracks like "Do Me Right" and the cinematic "Baby Don't Cry." Also a talented harpist, Belle utilizes this skill perfectly on the sparse but deeply soulful "New Boy," and several of these songs could have easily been standards if they were released decades earlier like "I'll Be Loving You" or the jazzy quasi-rockabilly of "Do Your Time."
Easily Lucinda Belle's finest work yet, Think Big: Like Me is an aural buffet of delectable, carefully-crafted treats.