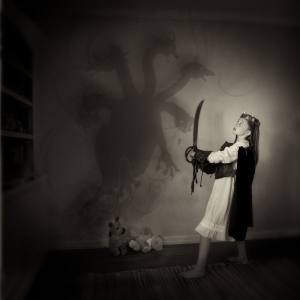 22 October 2022
Over the summer (August 12), Christine Byrd released her debut album under the band moniker Lumenette. "All Around My Head" (Hammond Music) is a 12-song, 50-minute aural escape that perfectly pairs Byrd's gentle vocals with soft instrumentals and up-tempo guitar- and synth-based music.
If you're wondering why the music may sound eerily familiar, it's because Christine's husband Marc Byrd is the co-founder of Hammock. His Nashville-based band has been producing stellar, mostly instrumental post-rock and ambient music since 2005 over 10 LPs, 5 EPs, and a smattering of singles.
If you're a Hammock listener, Christine's vocals might be familiar. Her dreamy contributions have enhanced Hammock's songs for years; a standout is their 2011 cover of Catherine Wheel's gorgeous song "Black Metallic".
Hammock's periodically dark and brooding music pairs so well with Christine's light and airy vocals that are reminiscent of Julee Cruise and Slowdive's Rachel Goswell. This skillful and beautiful mix of opposing counterweights and tension works well.
While this LP is a debut of sorts, it doesn't sound the least bit awkward and immature. Far from it, in fact, since it's constructed from the confident decade-plus songwriting and recording experience of these musicians.
The first track, "Alaska", is smartly sequenced as the LP's five-minute opener. It sets the tone for the whole album, almost like a mission statement. It begins with a Hammock-style soft introduction that is then overlaid with dreamy, reverbed vocals. A percussive chorus follows with built-up guitar layers. The closing passage is a two-minute symphonic and sweeping exhalation. It's the aural equivalent of walking into a giant meadow after a long period in thick woods. The song then disintegrates and dissolves into the ether.
Track two, "Nobody", is single material with a punchy beat and thrumming bass line that smartly counters the reverbing ethereal guitars and Christine's overlaid vocal harmonies. It sounds fresh yet familiar, reminding me happily of the chiming guitar melody from Rock Kills Kid's song "Back to Life."
The album continues with many standout tracks. Songs like "Deeper" are so confidently constructed, arranged, performed, and produced, it's the artistic equivalent of a math formula, where you just can't question the numbers. This one kind of reminds me musically of another Big Takeover favorite, Lanterna.
"There to Here" begins like a lost track from an early 80s British post-punk/new wave album (think Martin Hannett at the production helm) before it suddenly contemporizes, with open-ended, abstract, and beatless passages.
Overall, the strength of this album is that songs are played and arranged to allow for extended moments of breathing room. The listener is given time within a song to rest and shift, before Lumenette carries you into the next dynamic territory.
Links