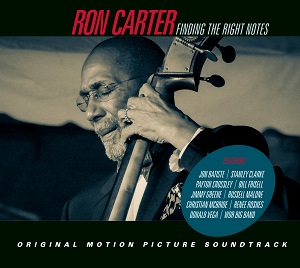 21 October 2022
Ron Carter is undeniably one of the titans of jazz. Though best known for his stint in Miles Davis' Second Great Quartet in the 1960s, the bassist has racked up hundreds, if not thousands, of recordings and performances with jazz musicians far and wide, including dozens of his own albums as a leader. Now 85 and still active, it seemed the time was right for a major documentary on the low end master; Finding the Right Notes airs nationally Oct. 21 on PBS. It's accompanied, naturally, by the soundtrack of the same name.
The disk gathers up performances recorded over the last eight years, featuring Carter's supple playing and distinctive tone in several contexts. Three tracks feature the bassist leading Cologne's renowned WDR Big Band in 2014 through his swinging original compositions, including "Receipt, Please," "Blues For D.P." and the ominously titled "Doom Mood." Thanks to his association with Davis, most folks probably think of Carter as a small group stylist, but these tunes prove he can more than hold his own in front of a large ensemble. The album also retrieves a pair of 2019 Newport Jazz Festival cuts, with a jaunty romp through Fletcher Henderson's "Soft Winds" and a gentle stroll through his own "A Nice Song," both accompanied by guitarist Russell Malone and pianist Donald Vega. Carter rejoins Malone at the Blue Note in 2017 for a playful take on Milt Jackson's bluesy "Bag's Groove," featuring a double bass attack from Carter and guest Stanley Clarke.
One of the most famous and skilled keepers of Carter's flame is Christian McBride, who pairs with the maestro on an impromptu two-bass version of the standard "Willow Weep For Me" at the Harlem Jazz Museum in 2019. Carter also keeps the duo vibe going with a gorgeous 2017 take on the Gershwin classic "My Man is Gone Now," joined by a clearly delighted Bill Frisell (who's a longtime off-and-on again compatriot) on guitar. A marvelous 2018 performance comes from Stockholm, in which the bassist fronts a quartet featuring drummer Payton Crossley, saxophonist Jimmy Greene and the fabulous pianist Renee Rosnes for a run through Davis' "Flamenco Sketches," on which Carter originally played. The soundtrack ends in 2021 with Carter and pianist Jon Batiste dancing merrily through "Sweet Lorraine," their chemistry bonded through Batiste being Carter's interviewer throughout the film.
The compilers could have filled up the soundtrack with previously released songs from Carter's many albums, and that would've been fine, especially considering how many of them are out of print. Instead, they chose unreleased cuts from the present and recent past, highlighting how active Carter still is in his eighth decade of life. It's a smart move, making Finding the Right Notes less of a historical document and more of a living portrait.