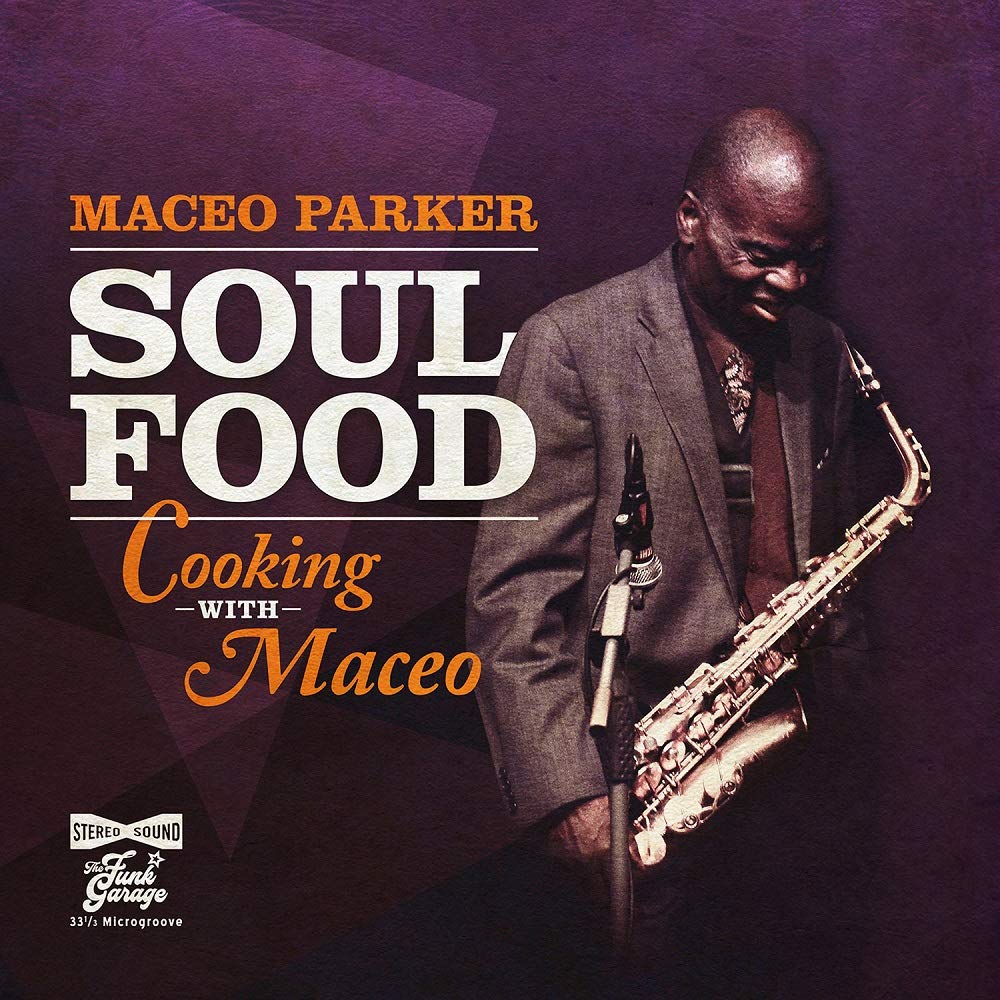 29 June 2020
Saxophonist Maceo Parker has paid more than a typical career's worth of dues to earn his reputation as a stellar bandleader and solo act for 50 years. But in the process, he certainly did make an impression as an unparalleled sideman for the all-time greats of funk including James Brown, Parliament-Funkadelic, and Prince) Parker pays tribute to a couple of those titanic bosses alongside songs by favorite collaborators and original material on Soul Food: Cooking with Maceo.
The set begins with a brash James Brown-styled soul shout and leaps into Parker's own horn-fueled "Cross the Track." Parker also memorializes his tenure as a crucial component of Prince's late-era bands (including participation in the Minneapolis music legend's final arena stint here in 2012 at the United Center, dubbed Welcome2Chicago). On Soul Food, Parker transforms Prince's slinky falsetto-and-acoustic guitar foray "The Other Side of the Pillow" from 1998 album The Truth into a smooth and easy concoction of Chicago blues and savvy New Orleans jazz chops. Parker's husky baritone is an inviting mix of soulful saxophone-styled rasp and velvet croon.
The album is steeped in the sound of New Orleans overall, and was tracked at the iconoclastic Crescent City recording haven House of 1000Hz. Parker collaborated with local fixtures to create the perfect funk-soul stew. He tips his hat to Big Easy legends with a euphoric and funky romp through the Meters' "Just Kissed My Baby" and a sly reinvention of Dr. John's "Right Place Wrong Time," punctuated by Erica Falls' Raelettes-styled background vocals, Derwin "Big D" Perkins' sharp Stax-styled guitar, and Ivan Neville's shimmering Hammond organ.
For Aretha Franklin's hard-driving "Rock Steady," Parker cribs a Rare Earth soul-rock groove driven by drummer Nikki Glaspie and layers it with percussive Brown-styled vocal cadence, honeyed moans from Falls, and funky brass charts from trombonist and musical director Steve Sigmund.
Parker's peerless phrasing, intuition and rafter-scaling range offer the sugary sweetness to send down the still-relevant social criticism of propulsive pianist Les McCann's indignant "Compared to What" (recorded at the Montreaux Jazz Festival in 1969 alongside saxophonist Eddie Harris). When Parker pauses the whip-crack, deep funk delivery of his Ray Charles-inspired vocal to declare, "I'm gonna play for you now," strap in for the stratospheric ride of the album.
Taken as a whole, this spirited set is a welcome and guaranteed mood-lifter to counter the lockdown climate, and songs like Allen Toussaint's "Yes We Can Can" preach unity, kindness and goodwill during divisive times. Parker's optimism for a better future is underscored by Tony Hall's body-moving funk bass, sassy trombones from Sigmund and Mark Mullins, and Parker's percolating tenor sax solo. The album's simplest pleasures arrive when the band just settles into a groove and lets it ride, as heard during a fresh take of "M.A.C.E.O.," first recorded after leaving Brown's band and forming Maceo & All the King's Men in 1970. Closing the album is a sublime cover of classic summertime single "Grazing in the Grass."