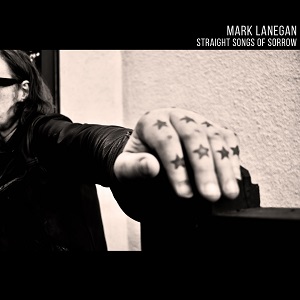 15 May 2020
Singer and songwriter Mark Lanegan has, in his long career, moved through psychedelic grunge, gothic folk rock, stark balladry and electronica-infused alternative rock. Given his eclecticism, noting that Straight Songs of Sorrow is different than anything else he's ever done is really saying something. Part of that is practical – many of the songs were generated through his new toy, a computer-based synthesizer called an Organelle, which pushes them even further into synthetic sounds that he's gone before, at least in his own music. But part of it is also inspirational – these songs were written as a sort of response to his recently published memoir Sing Backwards and Weep. Like the book, the songs eschew sentimentality or gloss on his drug-soaked past life, going straight for the emotional gut. "No one could ever tell me that enough's enough/I pay for this pain I put into my blood," he sings on the atmospheric "Stockholm City Blues," without a trace of melodrama. With references both oblique and direct to real life incidents, Straight Songs is automatically his most personal and intimate record yet.
For the most part, Lanegan lays his vocals atop artificial rhythms and cold electronics, augmented by additional instruments from his longtime compatriot Alain Johannes and various guests. As is usual for a Lanegan project, the roster is impressive. The groove-ridden "Ketamine" and the haunted ballad "Churchbells, Ghosts" find Lanegan accompanied by fellow singer/songwriter Ed Harcourt and bassist Jack Bates, son of New Order's Peter Hook. Former Pearl Jam and Red Hot Chili Peppers drummer Jack Irons beats real skins on the roiling "Ballad of the Dying Rover"(which also includes Mellotron from John Paul Jones) and the roaring "I Wouldn't Want to Say, while Portishead's Adrian Utley provides guitar and synth on the misty, mystical "Daylight in the Nocturnal House." Afghan Whigs leader Greg Dulli (also Lanegan's partner in Gutter Twins) harmonizes on the driving "At Zero Below," which also features violin from the Bad Seeds's Warren Ellis. Lamb of God guitarist Mark Morton is sole accompanist on the acoustic ballads "Apples From a Tree" and "Hanging On (For DRC)" – the latter of which is dedicated to fellow Seattle scene survivor Dylan Carlson, who also adds six-string mayhem to "I Wouldn't Want to Say." Lanegan's wife Shelley Brien appears as duet vocalist on "This Game of Love", as well as co-writer and synthesist on the ghostly "Burying Ground" and the droning "Eden Lost and Found."
That last song, in fact, becomes a well-earned period at the end of Lanegan's decades-long sentence. For all his explorations of the perilous streets and dark corners of his own past, he ends the album on, if not a high note, at least a hopeful one. Joined by Brien, Harcourt, and singer/songwriter Simon Bonney (Crime & the City Solution), Lanegan leaves his history behind and moves into the light. "Sunrise is coming/Daylight's calling me," he confidently notes, "Will you tell me if this is heaven/'Cause it's the only one I see." The song is the sound not of catharsis, but of freedom – the deep breath taken by an individual focusing on living the future instead of surviving the past.