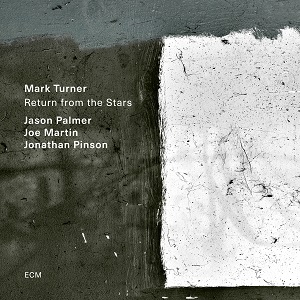 23 March 2022
Though a prolific sideman, tenor saxophonist Mark Turner hasn't recorded an album as a leader since 2014's The Lathe of Heaven. Maybe he just holds back until he's absolutely sure he has something to say; if that's the case, the strategy worked very well. Return From the Stars (like Heaven, named for a classic science fiction novel) spotlights an exceptionally strong set of Turner originals played by a remarkable band: trumpeter Jason Palmer, drummer Jonathan Pinson and bassist/longtime Turner compatriot Joe Martin.
That lack of chords lets plenty of air into the arrangements, the better to highlight the cuts' inherent tunefulness. "Terminus" and the title track field splendid melodies for the hornmen to use as springboards, and both their harmonized melody lines and solo interplay radiate heat and light. That goes double as the program progresses. Turner pushes the band into circular riffs and a busy rhythm on "Nigeria II," while Pinson's bustling drumming propels Palmer and the boss to nosebleed heights on "Unacceptable" and "It's Not Alright With Me." After all that fire, the record ends on a sedate but swinging note with "Lincoln Heights," a return to the overt melody with which Return began.
Given Turner's soulful tone and his ability to balance maintaining control with letting go, it's no wonder he's such an in-demand presence on other players' records. But Return From the Stars makes the argument that he should spend more time at the head of the table.