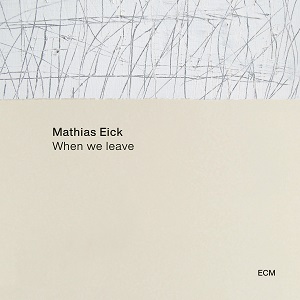 27 September 2021
Mathias Eick has been a rising star in the European jazz world for a decade or so now. But to call the Norwegian trumpeter and composer "jazz" might be missing the point. For those think elements of swing and improvisation are the most important signposts for this music we call jazz, Eick may be a disappointment, even an anathema. His focus is on ensemble playing and melody, often upbeat and overtly pretty melody, not rhythm or improv fire.
When We Leave, Eick's fifth album for ECM, bears this out. Track 2, "Caring," grants a certain sweetness to its melody, as might be expected from the title, with all seven musicians turning their attention to accentuating it. Violinist Håkon Aase doubles his employer's horn as often as playing counterpoint, while pianist Andreas Ulvo and pedal steel guitarist Stian Carstensen provide a lush bed in support of the lead players. Bassist Audun Erlien and drummers Torstein Lofthus and Helge Andreas Norbakken keep the rhythm percolating, but in an almost subversive way, never calling attention to it. "Caring" and "Turning" follow suit, focusing on pretty tunefulness, edging ever closer to the dreaded easy listening threshold, but never quite toppling into it. More aggressive and daring, "Flying" and "Playing" push the musicians toward the edge of their comfort zones, with the drumming in particular filling the tracks with tension. But even then the songs still stay within their appointed boundaries.
Gentler and more meditative, "Begging" closes the album as a stately hymn, its dignity pulling it away from being aural wallpaper. Eick and company seem dedicated to living on that fine line with When We Leave, threatening to become ECM's version of Chuck Mangione at any moment, and deliberately avoiding that gruesome fate by the skin of their teeth.