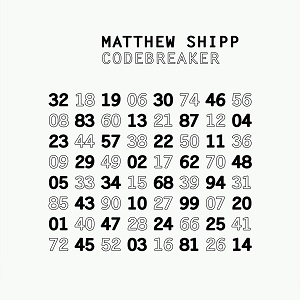 5 November 2021
One of the most respected members of the jazz avant-garde of the last forty-odd years, pianist Matthew Shipp staked out his territory – one in which dissonance, melody and off-kilter harmony are treated less like different tools than as singular prongs of the same tool – early on, especially on the solo piano albums that cemented his legacy.
Codebreaker represents a side trek of sorts. While it still displays plenty of Shipp's rule-breaking flamboyance, a willingness to kick down the wall of tradition and traipse through the debris, there's an introspection here, a sense of exploration turned deep inside instead of outside. Instead of sudden bursts of angular key-cracking, Shipp is more likely to ease into straight melodic passages that recall his chief inspirations for this project, Bill Evans and Bud Powell. That's not to say he borrows from either of those innovators – no matter what gives Shipp the impetus to push his fingers in a certain direction across the keyboard, the sound is always distinctly his own. Thus "Letter From a Galaxy," "Disc" and the absolutely lovely "Suspended" swim through relatively calmer waters than usual for Shipp, without losing his distinctive touch. On the flip side, typically outer rim tunes like "Raygun," "Green Man" and "Stomp to the Galaxy" drop dollops of lush melody even into the most discordant passages.
Ultimately, Codebreaker is as uncompromising as any Shipp record. The pianist has never followed, and will never follow, any path but his own. But for this album that route boasts unusually pretty scenery, making it another brilliant Shipp accomplishment.