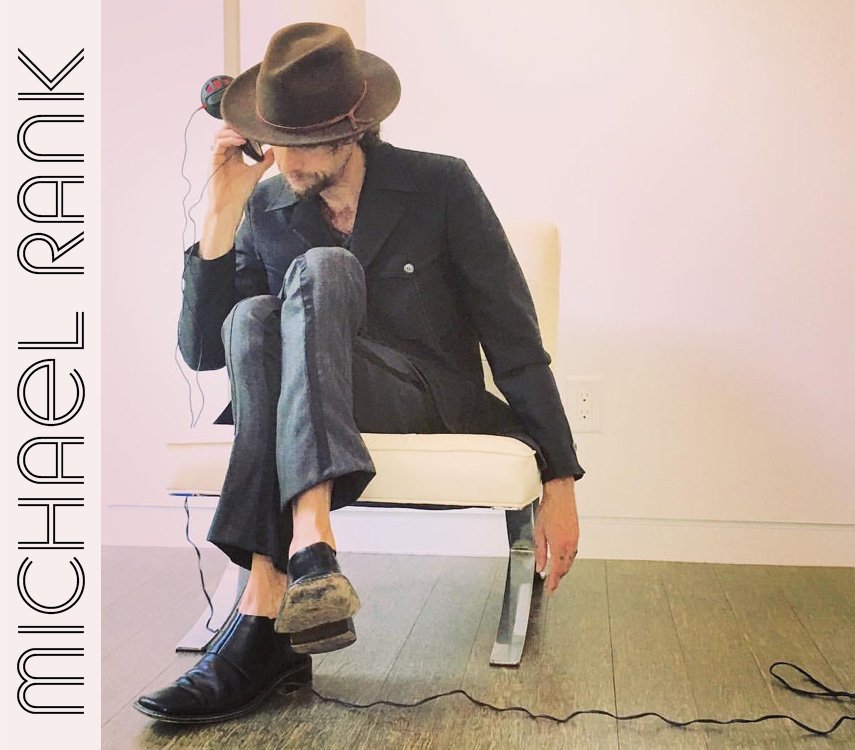 22 October 2018
You never know quite to expect from Michael Rank, but whatever musical form it takes, you know he puts his full heart and soul into it. Although he lives somewhat near Chapel Hill, North Carolina these days, his music has a sweet and brittle cosmopolitan flair, bringing back the glories of 70s radio when blue-eyed soul men charmed and ached for their baby to come back.
When we last heard from him, he'd recorded a three-record set of DIY R&B called Another Love, which was a massive template for what he's streamlined and upped his game into I Fell I Love with You Tonight, out November 7, 2018. Its science fiction love-funk is a long ways' journey musically from where he started back in ye olde punk days.
"I spent the lion's share of my nine lives in a loud rock and roll band called Snatches of Pink and worshiped dutifully at the altar of Johnny Thunders and Keef," Rank recalls in his bio. "We claimed the Replacements and Jason & The Scorchers as our Pied Pipers and we climbed into the rental van!"
His detour into drum machine-driven burners and ballads started from touching base with his longtime obsession with Sly Stone's 'There's A Riot Goin' On.' "That is arguably my favorite album recording of all time," he admits. "I released a triple album, "Another Love", in 2017 which was my maiden voyage into these sounds. But with this year's "I Fell In Love With You Tonight" we upped our game."
"Our" being he and producer and collaborator Brian Dennis, who did a great deal of work with Rank making the album sound like his favorites, which also include albums like 'I Want You' by Marvin Gaye, Jr. and songs like "Miss You" by The Rolling Stones. The duo was just as creative crafting the record together as much as Rank had put into the songs, cutting new synth hooks as we mixed.
Stating a couple of his own favorites for the full length, he says he's a big fan of the opening two back two back pairing of "U Got Me Feeling" with the bass-buoyant "Sugar," as well as "Back Again" and "Higher" (the seventh and eighth tracks). "'Higher' is the first song I wrote for this new album and also the first song Brian added his magic to," he explains. "When I sat back and heard that track, and heard where we were headed, it sounded like something new. Something fresh but born out of all those sounds and albums we had absorbed from back in the day. And for me, that's what it's all about."
The first single and video "This Love" was selected for its easygoing, romantic vibe, and the little secret Rank used to get attention: "I nicked Nile Rodgers of Chic's formula of kicking the song off with the chorus instead of the verse just for good measure!"