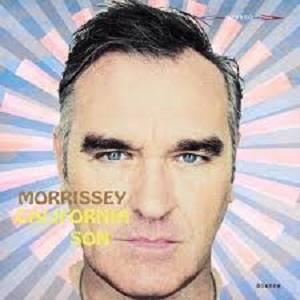 24 May 2019
For the last thirty-five years, Morrissey has been a constant figure in the spectrum of popular music. Coming to the fore in 1984 as songwriting partner of Johnny Marr in the iconic band The Smiths. After their implosion three-years later, Morrissey began a successful solo career. Turning out albums of immense scale, both lyrically and sonically- Your Arsenal and Vauxhall And I. His quality control did plummet slightly as the nineties moved on, until he regained his mojo fully with 2004's highly applauded You Are The Quarry. Since then, Morrissey has continued to churn out successful albums, which have received largely positive reviews from both fans and critics.
Why, now in 2019, would one of the most innovative songwriters to come out of Britain at the tail end of the last century, release an album of covers? It surely is an act of head-scratching wonderment. Unless he is marking that thirty-five years in the business or, Morrissey is simply repaying his influences, either way this latest release California Son is simply that. Although displaying a steady, social conscious message, the album contains no original material, just a reshaping of others, tracks which Morrissey himself may be a fan of, but not necessarily the buying public.
Before getting into the very nuts and bolts of California Son, taking a glance at the choice of track listing (Included below) is advised, which itself brings up some curious questions. On this long-player there is some glaringly obvious omissions, in no covers of David Bowie, Marc Bolan or New York Dolls tracks. Morrissey has covered all these artists in the past, particularly in concert 'Drive In Saturday (Bowie), 'Cosmic Dancer' (Bolan) and 'Trash' (The Dolls), so on this release he has not taken a bow to many of his first loves and influences. Instead, audiences are given a mixed bag of songs they may not be entirely familiar with. Along with the curious choice of material, you will find a very mixed sound, far removed from the camp but direct delivery he is renowned for and it is even lacking that sharp wit. Morrissey's twelfth album takes such a stretch for the listener compared to his previous releases, that it could rattle his successful career.
That is of course without the saving grace of three of those tracks. Firstly one of Morrissey's own influences, the Jobriath Boone track which opens the set respectively "Morning Starship", a good version in fairness but lacking slightly in passion. With a blend of synth, guitar cranks and some electronic beats, there is an edge that is lacking. Of course the Billy Joe Armstrong (Green Day) collaboration on "Wedding Bell Blues" fairs better. This fifty-year old track by the 5th Dimension sounds hand-built for Moz, with a spritely air to it, a comfortable and at times emotionally charged track with Armstrong providing and crooning the backing vocals. Lastly there is the Dionne Warwick track "Loneliness Remembers What Happiness Forgets", which Morrissey excels with and shows how his voice is at least in perhaps the best shape it's ever been in, even as he is hitting the sixty year mark.
Of the remainder, very little jumps out with any magnitude of interest. The Roy Orbison cover "Its Over" sounds bland even with the injection of American singer Lp, whilst Bob Dylan's "Only A Pawn In Their Game" and Buffy St. Marie's "Suffer The Little Children" both sound like a paint-by-numbers rendition than any real artistic statement. Hopefully he comes back with a You Are The Quarry styled original long-player. While it is an okay release, for Morrissey, it lacks far too many of his unique qualities sadly to make it a great album.
Label: Étienne
Track List:
1."Morning Starship"
2."Don't Interrupt The Sorrow"
3."Only a Pawn In Their Game"
4."Suffer the Little Children"
5."Days of Decision"
6."It's Over"
7."Wedding Bell Blues"
8."Loneliness Remembers What Happiness Forget"
9."Lady Willpower"
10."When You Close Your Eyes"
11."Lenny's Tune"
12."Some Say I Got Devil"