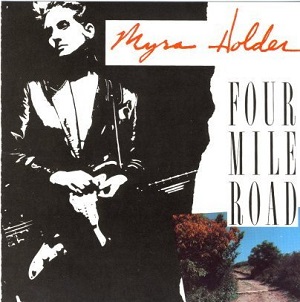 16 September 2021
One of many North Carolina to New Jersey transplants in the eighties, singer/songwriter Myra Holder made one album, 1989's Four Mile Road, then apparently disappeared into normal life. Produced by Chris Stamey and considered a minor classic of the college rock era, that record has been out of print for decades, but has now been resurrected in digital form for the first time.
Taking inspiration from her Southern birthplace and joined by a small army of musicians from Let's Active, the dB's, the Schramms, Fish & Roses, Crossfire Choir and other NC/NJ scenesters, Holder comes up with a handsome set that straddles the line between jangle pop and what would eventually be called Americana. Straightforward, melodic tunes like "John Calvin," "Pretty Blue" and the title track favor tasteful arrangements that stay out of the way of her rich voice, while "Never Never" tweaks the formula with tempo changes and dynamic shifts. "Jellybean" adds a rockabilly kick courtesy of ex-hubby Gene Holder (then of the dB's) and Let's Actives Mitch Easter and Faye Hunter, while then-husband Tom Quinn's mandolin turns "NC" into a quirky folk song.
Holder also transforms Roy Orbison's high drama classic "It's Over" in a moody midtempo rocker, and Big Star's "Blue Moon" into a childlike lullaby. There's nothing boundary-pushing on Four Mile Road, no sonic experimentation or lyrical flights of fancy – just good songs, played well, and produced to appeal to everyone.