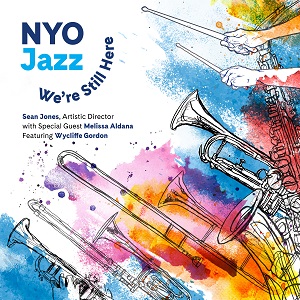 21 June 2022
An outgrowth of the lauded National Youth Orchestra of the United States of America, NYO Jazz is, obviously, the organization's jazz outreach arm, recruiting hardworking and prodigious 16-19 year olds to keep the flame of one of America's greatest contributions to culture burning. We're Still Here, eleven tracks of expertly performed big band jazz, presents a diverse program and a few adult ringers tossed into the mix.
Saxophonist and composer Miguel Zenon, for example, contributes a pair of tunes: "Oyelo," a frisky swinger, and "Run with Jones," a brisk piece composed specifically for the NYO – both featuring guest sax solos from rising star Melissa Aldana. Trumpeter Igmar Thomas provides the dramatic "RPM's," a tight ensemble piece, while composer Ayn Inserto gives the group the vibrant "Mr. Jones and Co.," with bandleader Sean Jones' trumpet leading the charge. Keyboardist John Beasley, meanwhile, hands off the luminous"Fête dans la tête," with soloists coming strictly from the ranks of the kids. The ensemble digs into the classic songbook as well, essaying Duke Ellington's jaunty "Mr. Gentle and Mr. Cool," composer Neal Hefti's swinging "Cute," the late Ralph Peterson Jr.'s epic "The Art of War" and pianist Duke Pearson's slinky "Bedouin." NYO instructor, trombonist and singer Wycliffe Gordon sits in with his title track, the band's longtime encore, which is as rousing a showcase for the power of horn charts as might be imagined. The disk concludes with a Sean Jones original, the melodic and dynamic "Transition."
The tunes stay within the borders of big band jazz, but work a lot of variety into the format. It's quite remarkable that kids in this age group can take this music on without much obvious effort. As a piece of music in and of itself, We're Still Here scans nicely as well, whether or not you know the story behind the players.