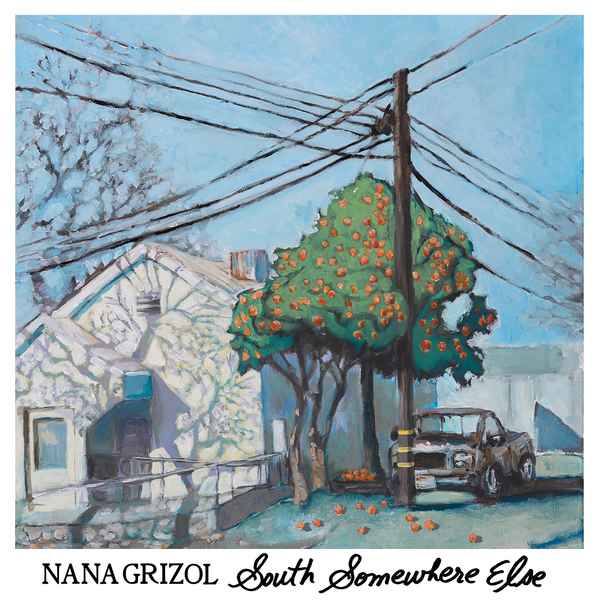 26 June 2020
At the time of writing this, we are a few weeks past Donald Trump's staunch rejection to rename military bases named for confederate generals—a small but not petty gesture in the right direction that could have been enacted at the flick of the wrist. When Nana Grizol's fourth LP South Somewhere Else was announced a couple of months ago, it's hard to imagine that most white liberal folk anticipated the long overdue reckoning that would be set off by the murder of George Floyd. Never before have we felt so galvanized to learn about systemic racism and unconscious biases.
Theo Hilton, Grizol's primary songwriter and bandleader, has long been a forward-thinking advocate and cult poster boy for queer punk scenes. This latest record carries a prescience spurred on by the collision of Hilton's wont to recount his formative years in Athens, Georgia and the contextualization of that setting. "It was assumed that the South was a thing that took place somewhere else," he begins every stanza to the titular jaunt, reasserting the simple ignorance possessed within any woke non-POC individual. It's an admission of privilege straight from a former inhabitant of ground zero for American inequality; a poppier update to Minor Threat's "Guilty of Being White" that's worlds more considerate of the big picture. In a time where white people cannot let another moment pass without learning of our benefit from yesterday and today's improprieties, there is no tune as welcome or pleasing as this. It certainly plays better than Aaron Paul hammily reading off a teleprompter about "taking responsibility."
"Jangle Manifesto", a song that does exactly what it says on the tin, rails against the dark implications of what it means to be patriotic and the toxicity of jingoism: "And that's the problem with 'the people,' there's always someone that we're not / To say a person is illegal, there's nothing quite so evil as a law". Hilton's wordsmithing has always been the dependable crux of Nana Grizol's charm and appeal, and it's invigorating to see that skill now holding the powers that be accountable for their hypocrisy. Being born into sin is a dubious concept biblically, but historically it's unshakeable and the first step is to address it.
Robbie Cucchiaro continues to be Nana Grizol's obvious strongest instrumental asset. There's an irony that a brass player brings to a humble indie rock band such as this or, similarly, Beulah before them. Trumpets and euphoniums are commonplace in symphony orchestras or ska groups because of their inherent grandiosity and prideful sound. That power in Cucchiaro's horns is the key ingredient in their "little engine that could" aesthetic, less bombast than it is comfort-seeking. It's always fit their demeanor perfectly, gifting a spirited edge to these unassuming yet pithy anthems. His contribution has never resonated as longingly as it does in "Quiet, I Can Feel It".
It's no surprise that Hilton makes one hell of a rallying cry for change and understanding, and while South Somewhere Else is rife with his sociopolitical columnist wit, he still weaves in plenty of the personal beauty he's spent a few albums proving matters so much. Nana Grizol are vim incarnate, rife with love for life and all that we learn from its offerings brutal and tender. For every release's peppy "Galaxies" there's a tranquil "Cynicism". Here we're treated to the same dynamic brilliance in "We Carry the Feeling" and "Not the Night Wind", two immediate staples to the band's oeuvre. Tracing intimate corners of his life so touchingly human, these songs achieve a therapeutic level of efficacy. It's a feat of penmanship to craft songs this drenched in thought and keep them from spilling over. Every verse is as kempt as a military bunk, all ducks in a row. No instance of ennui bears the slightest hint of pretense, no memory needs romanticized more than it naturally is. Hilton makes it hard not to be your favorite songwriter.
You may purchase the record here.