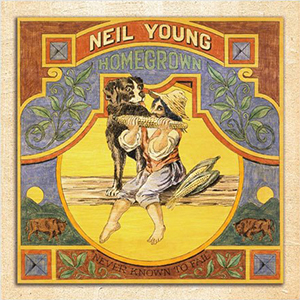 5 July 2020
Neil Young's "lost" album has been released 45 years after its recording and, for rock 'n roll lovers, it was well worth the wait. There's always something exciting, almost epiphanic, about the work of a great artist in their prime finally seeing the light of day. Fans and fanatics clench their teeth in anticipation, dying to know if the past will grace the present with a hidden masterpiece. While Homegrown may not quite merit the title of masterpiece, as Young enthusiasts like myself hoped, it's at the very least a beautiful record, earthy and elegant, in keeping with the folk rock spirit of his contemporaneous work.
Recorded mostly in December 1974 and January 1975, the album contains lyrics heavily inspired by Young's ill-fated romance with actress Carrie Snodgress ("Love is a rose but you better not pick it / it only grows when it's on the vine"). When their relationship ended, Young decided to shelve the album because it was too personal and released Tonight's the Night in its place.
True to its title, Homegrown often has a homemade, unvarnished feel; certain tracks, like "Florida" and "Homegrown" itself, include casual shoot-the-breeze-type studio conversations with Young and his bandmates, almost as if they're trying to remove the smoke and mirrors of studio recording and replace it with the more intimate, informal quality of a live performance. Mostly this adds to the music's charm, its raw appeal and texture. Other songs, like the rollicking blues vamp "We Don't Smoke It No More" or the Cinnamon-Girl-reminiscent ballad "Vacancy," feel layered, full, precisely arranged. The track list represents a blend of gentle, heartfelt acoustic and vigorous electric melodies, running the gamut of Young's stylistic pursuits at the time it was recorded.
Of all the songs on the album, I was most moved by "White Lines," "Mexico," "Separate Ways," and "Little Wing," all of which showcase Young's uniquely frail, vulnerable voice and his talent for writing simple melodies that express complex emotions: the unplaceable melancholy of a gray, windy morning, weary nostalgia and floundering heartache, etc. "Vacancy," another of the album's highlights, expresses a more exuberant side of Young, its vibrant melody allowing each musician a chance to put their prowess on full display.
What separates Homegrown from Young's best work can't quite be attributed to any fault in the production or the compositions themselves; the melodies are often affecting, but not altogether memorable, and one can sometimes feel Young straining to reach an emotion he already conveyed magnificently in previous records.
The album deserves repeat listens; every song, in its own way, reveals another facet of its beauty each time I circle back to it. Robbie Robertson's soulful acoustic duet with Young on "White Line," for example; Levon Helm's deft, gentle touch on the snare in "Separate Ways," complimented by Ben Keith's smooth, sorrowful cries on pedal steel guitar; Emmy Lou Harris's sweet vocal accompaniment on "Try"; Young's characteristically minimalistic but passionate solo toward the end of "Vacancy." Although it doesn't quite hold up to the standard of all-time Young classics like After the Gold Rush, Harvest and On the Beach, Homegrown soars far above most rock 'n roll output of today.