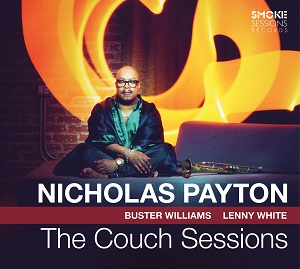 23 November 2022
Trumpeter/keyboardist Nicholas Payton is that rare musician who knows exactly how to balance two callings – reverence for the ancestors and the urge to move forward and keep the music's evolution going. For The Couch Sessions, he and his superstar rhythm section of drummer Lenny White and bassist Buster Williams pay tribute to several jazz pioneers and peers, some living, some dead, but do it without going full retro. A perfect case in point is the opening track "Feed the Fire." Composed by the late, great pianist Geri Allen, the track features Allen's own words – from a speech whose recording is triggered by Payton's iPhone and accompanied by Payton's warm Fender Rhodes – explaining how her hometown of Detroit influenced her forward-thinking music. Payton switches to acoustic piano for Keith Jarrett's "Blossom," which also includes a recording of the man himself philosophizing about the making of music.
The trio also covers a pair each from Wayne Shorter and Herbie Hancock, both members of the path-breaking sixties quintet led by Payton's hero Miles Davis. Shorter's "Pinocchio" features the sax great telling an amusing story about working with Miles, before the band blows through some fiery post bop, while "Fall" gets funky with a style closer to Davis' late sixties work, right before he dove into fusion. Hancock's "Watch It" puts Williams in the hotseat for the solo, as Payton provides rock-solid piano comping, while the keyboard legend's swinging "The Sorcerer" includes the famous story of Hancock playing a clam, and Davis adapting to the mistake rather than castigate his sideman.
Payton doesn't forget his cohorts, both of whom have impressive histories of their own. "His Name is Lenny" pays tribute to White, who has some words of wisdom to lay down over the electric piano textures, though "Bust-a-Move," a nod to his bassist, eschews samples to just burn. Williams has his own say with "Christina," a lovely ballad composed by the bassist and brought to life by Payton's lush piano work. He also pays tribute to Revive Music Group founder Megan Stabile, who died young, but not without leaving an impact on modern jazz.
"Bleek's Blues" pays a different kind of tribute – not so much to a specific jazz luminary, though the tune is named for Denzel Washington's character in the Spike Lee film Mo' Better Blues, but to jazz as a marketable ideal. Payton really throws down for "Jazz is a Four-Letter Word," conveying his ambivalence with the term jazz with both words and melodic piano and trumpet figures. That penultimate track seemingly works at odds with Payton's nods to his ancestors, but it's in keeping with the leader's iconoclastic take on his craft. The spirit of the music is what moves him, after all, no matter what it's called, and The Couch Sessions moves us, too.