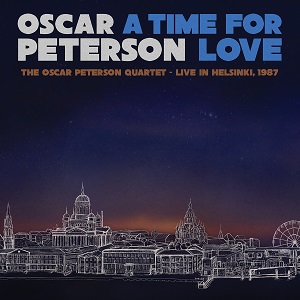 26 November 2021
A legendary virtuoso, pianist Oscar Peterson channeled the keyboard masters that came before him into a singular vision, influencing tons of future maestros with at least 200 records to his name – a prolificacy that makes it easy to take his body of work for granted. But it's the Canadian ace's concerts that still produce awed whispers amongst his followers, and A Time For Love: The Oscar Peterson Quartet Live in Helsinki, 1987 documents a great one.
Joined by bassist Dave Young, drummer Martin Drew and his longtime compadre, guitarist Jim Hall, Peterson divides the show into thematic halves, with the first disk made up solely of originals. The quartet kicks the show off with the stolid strut of "Cool Walk," a smart way to ease the audience into the fireworks to come. The band really takes off immediately afterward with the speedy swing "Sushi," on which Peterson and Hall trade blazing solos that would be the envy of any player working today. That goes double for "Cakewalk," another uptempo blaster that finds Peterson and Hall pushing each other to even greater heights. The band cools things off with "Love Ballade," a beautiful tune that takes advantage of Peterson's classical training. He really brings his education to bear on "A Salute to Bach," a medley of tunes by the titular composer that Peterson injects with enough blues, swing and soul that you'd think he wrote them himself. It's a stunning performance, not only for playing but for arrangement, that highlights what makes the pianist special.
The second disk delves into the encyclopedia of standards and jazz classics at Peterson's command. Along with the band, his takes on Johnny Mandel's title track, the Disney classic "When You Wish Upon a Star," and, especially, a delightful romp through the Les Paul standard "How High the Moon" belie any fears of over-familiarity. A frisky version of Benny Goodman's "Soft Winds" and a loving, but not overly reverent, take on Bill Evans' masterpiece "Waltz For Debby" show off Peterson's comfort with the catalogs of fellow icons. Which makes sense, given that the climax of the show is a gigantic medley of Duke Ellington tunes, including "Take the 'A' Train," "Don't Get Around Much Anymore," "Come Sunday," "C-Jam Blues," "Lush Life" and "Caravan." No matter whether he's playing one of the ballads solo or leading the band pell-mell through a swinger, Peterson throws everything he has into his performance, pushing band and audience into a near-frenzy.
The pianist closes out the show with his own hit "Blue Etude," swinging at top speed to what sounds like a standing ovation. The skill and exuberance with which he takes on the music, and the enthusiasm of the band behind him, make A Time For Love a great summary of everything that makes Peterson a legend, and also a smart entry point into a voluminous catalog.