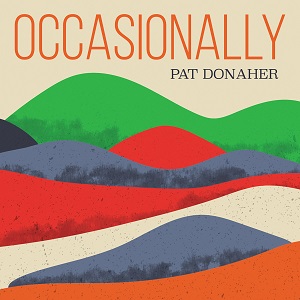 9 April 2021
A veteran Boston-based saxophonist, Pat Donaher has worked with everyone from Benny Carter to Dave Liebman to Maria Schneider to Steve Vai. For his fourth LP Occasionally, the high school music teacher and yoga instructor takes a painterly approach to his music, shifting the emphasis away from improvisation and towards composition.
Opener "Wedding Day" displays a chamber music-like approach, with a carefully unfurled structure and a relaxed pace that allows Donaher's musicians (particularly bassist Tony Scherr) to find their own way through the melody and harmony. "Whoosh/Oomph" starts off with an even more atmospheric aura, but quickly pivots into a lively arrangement that draws in New Orleans funk and East Coast swing to buoy close harmony horn lines. The groovy "D2" puts a hip-swaying rhythm beneath a soulful descending melody, and lets guitarist Tim Watson add a fiery break. Carmen Staff's piano leads the beautiful "624", a luminous ballad that gives trumpeter Jason Palmer a chance to shine. (The song gets another round on the brief "624 revisited.") "Valiant On Valence" indulges Donaher's clear love of bebop (and lets him have the spotlight with a swinging solo), while "Bouncin' Off the Walls" (clearly a pandemic-inspired title) boogies in a more hard bop direction. The ebb and flow of Allison Miller's cymbal work gives closing ballad "Warm and Fuzzy" an interesting tension underneath the dreamy tune.
Perhaps the album's best track, "Black Suits, White Smoke" finds Donaher eschewing a direct stylistic throughline, with a swirling melodic line that's ornamented by each player in his or her own way. It's a great example of the way Donaher moves from approach to approach with a firm hand on the arrangements and a keen ear for when he should let his sidepeople off the leash. By focusing on his ability to write memorable tunes in a variety of jazz styles, Occasionally shows off Donaher's talents as a bandleader as much as, if not more than, an instrumentalist.