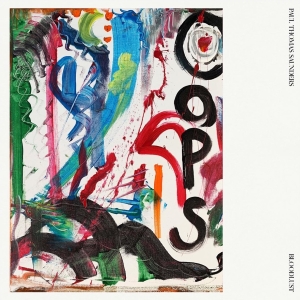 17 September 2022
Brighton, UK-based Paul Thomas Saunders took a lengthy hiatus after his first album, "Beautiful Desolation" (Atlantic, 2014). During this break he may have lost some momentum, but he continued writing. However, as he noted to me recently, things weren't really clicking.
"I did release a couple of songs in 2017, I think, but it didn't feel right. At that point I wasn't sure what those songs were or what they were leading to."
In isolation during Covid, it took Paul longer than expected to develop the fully fleshed-out songs that would appear on the new album. But it was also a good time for reflection.
"The songwriting was a slower process. It's a culmination of songs I've written over the past seven years, I think. It felt like a bit of a privilege to be able to pick from many songs I'd written over that period, to piece together what is a very personal record, with moments that represent a departure of innocence and adolescence."
On the recording side, like many other musicians during the pandemic, Paul echoed that there were upsides. By working alone he could record his songs with less resistance that might otherwise come about with group decision making.
"Once I started recording, it felt like a swift process, having been forced to work on the songs, primarily alone, due to the pandemic. There [was] little room for conflict. So once the process begun, I just ran with it, treating the songs how I believed, at their very essence, they needed to be represented on record."
When it came time to producing "Figure in a Landscape", Paul had a very positive experience, taking the helm himself for most of the project before allowing others in.
"Producing the album was actually really liberating. It's really empowering to take ownership of a space – my home studio – and build something upon it, initially [with] no validation, only self-belief, pushing and pulling a song around in ways that I might not feel brave enough to [do] with others. I think at the same time, because I knew those songs so well, inviting Max Prior and Alastair Thynne to bring some additional production to the tracks at the end of the process allowed the tracks to feel a little wilder and visceral for me again after they had become very familiar."
While much time has passed since many people would have heard Paul's new music, the "Bloodlust" single retains much of what you'd expect as a listener familiar with his music. It starts somberly with a hint of keyboards for atmosphere and prominent acoustic guitars. The song slowly builds from there with drums and eventually a soaring vocal. It's the kind of song – like many of Paul's – that you might hear in the background somewhere. As the seconds pass into minutes, you find yourself tuning out everything else around you until you're left alone realizing it has captured you fully.
The single's lyrics hint at trauma and trying to move on from it, or seeking solace from someone else as part of the recovery. I asked Paul if the Covid era strongly influenced the lyrics of this and other songs on the new LP.
"You know what, I think this is what history does, or what we do to history. Leading up to Covid, or even this post-Covid era, doesn't it feel like everything was spiraling? And looking back, there's almost a sense that it was inevitable that some profound event would occur. Because of many factors, it feels like the world is turning in a wilder and wilder motion sometimes, and for some reason, that feels mirrored in my own life at this time. That's really at the heart of the album, finding stillness in chaos."
Paul has carved out a special place as an artist. Seek him out for a live performance if you can. He played his first show in several years in London at the end of August. He tells me that more shows are in the cards, but they come with caveats. "Touring terrifies me, and [touring presents] a world of challenges for a smaller artist, so it won't look like a regular tour. But there will be shows."
Update: Paul posted to his bandcamp page:
"I'll be playing an intimate Sofar Sounds show in Leeds curated by Hanglands on October 20th! It's in beautiful secret location in Leeds, with a secret line-up that will be revealed shortly before the event!" Tickets are up now: www.sofarsounds.com/events/41888
Links
"Spotify":https://goo.gl/kQ8qdw
"iTunes and Amazon":http://hyperurl.co/le2mre
"Facebook":https://www.facebook.com/paulthomassaunders