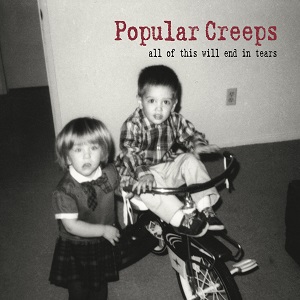 7 December 2022
In a way the West Coast counterpart to Boston's Rum Bar Records, Burbank's Big Stir also pledges its troth to gimmick-free guitar pop and rock & roll, with an emphasis on the former. The label's had a pretty good year, especially with a recent spate of releases that feed the souls of lovers of Midwestern power pop.
Detroit's Popular Creeps present a multi-songwriter take on power pop that reflects the sound of their town on second album All of This Will End in Tears. Fronted by singers/guitarists Lenny Grassa (formerly of the Leonards) and Andrew Colvin, the band keeps it pretty straightforward: catchy melodies, loud guitars, and heart-on-sleeve lyrics in the old-fashioned style. Though there's some acoustic leavening (cf. "Favorite Picture" and "Keep It To Myself"), the quartet sticks mainly to that form, with "Tear Me Apart," "Split Decision" and the obvious single "Gone By 45" nicely balancing sweetness and power. With their blend of smiley pop hooks and guitar muscle, the Creeps recall their Motor City predecessors the Junk Monkeys, and that can only be a good thing.
By contrast, Akron's Librarians With Hickeys turn down the crunch and crank up their jangle on their sophomore LP Handclaps & Tambourines. Heartfelt, no-bullshit lyrics join melodies straight out of the sixties-obsessed seventies era of power pop for a set of tunes that sound genetically engineered to induce singalongs and air guitar. Even more earnest than Popular Creeps, LWH can write winsome songs with titles like "Over You," "Can't Wait 'Till Summer" and "I Can't Stop Thinking About You" without a dollop of bubblegum in the mix. Add further gems like "Me and My Big Mouth" and "Ghost Singer" to the mix, and Handclaps is a power pop classicist's dream. Armed with superior songcraft and a sheer love of the form, LWH indulges in traditionalism without a whiff of nostalgia.
Though they share a state with Popular Creeps, Crossword Smiles broadcasts even less power than LWH, though the duo makes up for it with expert songwriting on debut full-length Pressed & Ironed. Somewhere on the spectrum near Aztec Camera, Crowded House and the dB's, multi-instrumentalists Tom Curless and Chip Saam write tunes that boast immediate appeal, but field a harmonic sophistication that show knowledge of more than just early Beatles or Cheap Trick records. The sparkle and shine of "Feet On the Ground" and "Lotus" contrasts nicely with the plainspoken "Taken On the Chin" and "Where's the Sense," while "The Girl With the Penchant For Yellow" reveals a quirky sense of humor. Drenched in sweet vocal harmonies and powered by strong tunes, Pressed & Ironed signals that Crossword Smiles is a band whose next album is to be anticipated.