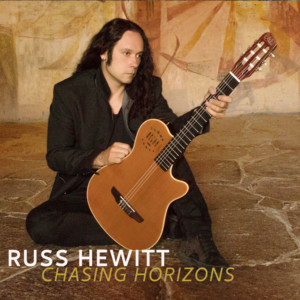 6 December 2022
Before hearing Dallas instrumental guitar virtuoso Hewitt's mesmerizing fourth album, I knew nothing of the nuevo flamenco movement (which took root in Spain in the late '70s, fusing and modernizing traditional genres like samba, montuno, milonga, rumba, and guajira) that he's been at the forefront of for 14 years. But one listen was all it took to become hooked on his dexterous and highly melodious style of playing. As was the case on 2008's Bajo El Sol, 2011's Alma Vieja, and 2016's Cielo Nocturno, each song is anchored by top-notch bassist Bob Parr, drummer Walfredo Reyes Jr., and percussionist Rafael Padilla; a new second percussionist, Efren Guzman, has also been added. But whereas Hewitt played along with rhythm guitarist Alfredo Caceres on those first three LPs, here he's joined by several guest guitarists who trade solos with him on four tracks. You wouldn't expect heavy metal axemen Nuno Bettencourt (of Boston's Extreme) and Marty Friedman (of L.A.'s Megadeth) to be accomplished flamenco practitioners, but each matches Hewitt with delectable accompaniment on the savory, rumba-inspired title track and the funkier montuno "Vivir Libre."
"Chasing Horizons" (feat. Nuno Bettencourt)

Similarly, Costa Rica's Jorge Strunz and Iran's Ardeshir Farah, of L.A.-based guitar duo Strunz & Farah, provide their own distinctive, easygoing bossa nova and Caribbean flavorings to "Sunset Samba" and "Cubalia Café." Elsewhere, two uncharacteristic tracks shake up the formula. On "Amor Perdido," Hewitt's radiant, mischievous finger-picked guitar lines are accentuated by Romania's 21-piece Bucharest All-Star Orchestra, whose lush, sweeping strings provide dramatic flourishes that gently thrust the rhythms forward. And Tri Nguyen's idiosyncratic, malleable Vietnamese zither (or đàn tranh, which resembles a cross between an Indian sitar and Japanese koto) makes the relaxed, meditative closer "Return to Simitai" feel like you're attending a formal Asian tea or wedding ceremony.
"Amor Perdido" (feat. Bucharest All-Star Orchestra)

Finally, on the remaining four tracks — the galloping "Allende," shimmering "Luminous," introspective "Luna," and doleful "Serein" — Hewitt takes a break from guest collaborations to let his own guitar playing assume center stage for the entire song. Not surprisingly, the results are equally enchanting, with each of the four encompassing a range of moods and sentiments. But you can also imagine them acting as tranquilizing soundtrack music to a beach or island vacation video, or a travel show panoramic of the Andalusian countryside. Akin to whiling away the days on one of those carefree holiday excursions, it's easy to lose yourself in Hewitt's bright, effervescent melodies.
Website | Bandcamp | Facebook | YouTube | Instagram