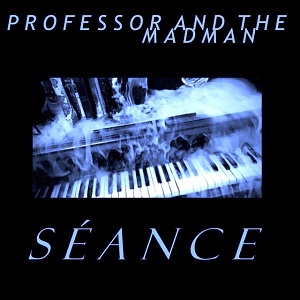 1 April 2020
Not a household name as such, although they should be. Professor And The Madman are a trans-Atlantic supergroup consisting of the cream of punk rock talent. Featuring Alfie Agnew (Adolescents, D.I.), Sean Elliott (D.I., Mind Over Four), Paul Gray (the Damned, Eddie & the Hot Rods), Rat Scabies (formerly of the Damned). After checking out that list of heavy hitters, it soon lands home exactly what is involved here. With such a musical pedigree, the expectations are met nicely already with past releases. 
Professor And The Madman has four albums already under their belt since 2016, they are becoming a juggernaut of prowess. Agnew, Elliott, and Scabies formed the outfit with Paul Gray joining in 2017. With two albums released in 2016 Good Evening, Sir! and Election . The full, and current line up appear on Disintegrate Me (2018) and last years Live at the 100 Club. Which brings us nicely up to date with what is coming next from Professor And The Madman.
A new album Séance due this summer, with the first peek into this anticipated release in the self-titled single. A track which is not what you'd expect, but at the same time contains a sounds fresh and bang up-to-date. The track "Séance" blisters with energy. A distinct collision of influence combined from each member which creates something unique, different and addictive. An eye opener of what's to come, as guitarist-vocalist Alfie Agnew explains- "A séance typically refers to a ritual used to make contact with a person who has died. We see the songs on our new album as attempting to re-establish contact with an era, a way of life, that has died. More specifically, our goal is to evoke the strong connection we felt toward music in our youth"
Salivating at the prospect of this long-player, there are also some other aspects to look forward to. Professor and the Madman has created a new board game which will be available at various pre-order levels. The game is played with a pair of dice, cards, and miniature game pieces. Perhaps this board game ties in with the music? Whatever the reason for its inclusion, given this snippet of music, all financial roads lead to Séance. As this is definitely going to be one of the most talked about releases of the year. 
To Pre-Order: 
Website
Facebook