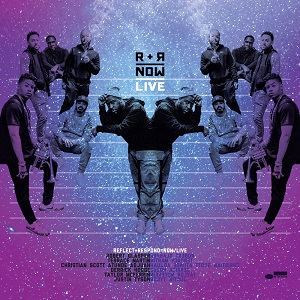 11 February 2021
Modern jazz supergroup R+R=NOW formed out of what was supposed to be a one-off, freely improvised show at South By Southwest in 2017. Organized by keyboardist Robert Glasper, the group included trumpeter Christian Scott aTunde Adjuah, keyboardist/saxist Terrace Martin, bassist Derrick Hodge, sampler/beatboxer Taylor McFerrin and drummer Marcus Gilmore spontaneously creating the kind of jazz, R&B and hip hop melange that Glasper had pioneered on his Grammy-winning album Black Radio. I was at that show, and was impressed with the level of improvised (but not free form) artistry on display for nearly two and half hours, marred only by some repetitive grooves at the end to accommodate guest rappers and singers. I remember thinking that it sure would be cool if these folks took this into a studio.
After replacing Gilmore with drummer Justin Tyson, the conglomerate did just that, naming themselves after a Nina Simone quote ("R+R" means "reflect and respond") and putting out the LP Collagically Speaking in 2018. With everybody in the group having already busy careers (Glasper alone formed two new bands in this one's wake: August Greene, with Common and Karriem Riggins, and Dinner Party, with Martin, Kamasi Washington and 9th Wonder) a studio follow-up doesn't seem forthcoming. Instead the band offers up this live album, with performances drawn from their 2018 residency at New York City's Blue Note.
After a year of studio work and a month of honing a live presence, the band has their sound down. Adjuah's effects-laden horn squeals, Glasper's rippling piano work, Tyson and Hodges' steady grooves, Martin's sinuous sax and cosmic vocoder lines, and McFerrin's synth support come together for tight, 70s-style soul structures and modern rhythms that still leave room for tasty improvisations. Unsurprisingly, the set leans heavily on Collagically Speaking, with five of the seven cuts coming from it. In a live context, that basically means expanded takes. "Respond" and "Been On My Mind" essentially merge into one tune, "Change of Tone" hits the nine-minute mark thanks in part to a spectacular Glasper solo, and "Needed You Still" doubles in length from six minutes to twelve, with Omari Hardwick guesting on vocals. "Resting Warrior" pretty much triples, stretching out all the way out to twenty-five minutes, with plenty of horns-locking (and a faded ending that indicates the song went on even longer).
The album does include a couple of new tunes, however: a sensuous instrumental take on Martin production client Kendrick Lamar's "How Much a Dollar Cost," and a dreamy, spaced-out medley of Adjuah's "Perspectives" (from Stretch Music) and McFerrin's"Postpartum" (from Early Riser) that's worth the cost of admission alone. Plus there's the addition of on-the-spot soloing that doesn't imitate the studio release, and the pleasure of having a live snapshot that, while not an accurate representation of the original 2017 performance, at least serves as a souvenir of what remarkable musicians can accomplish, even when they don't have a script going in.