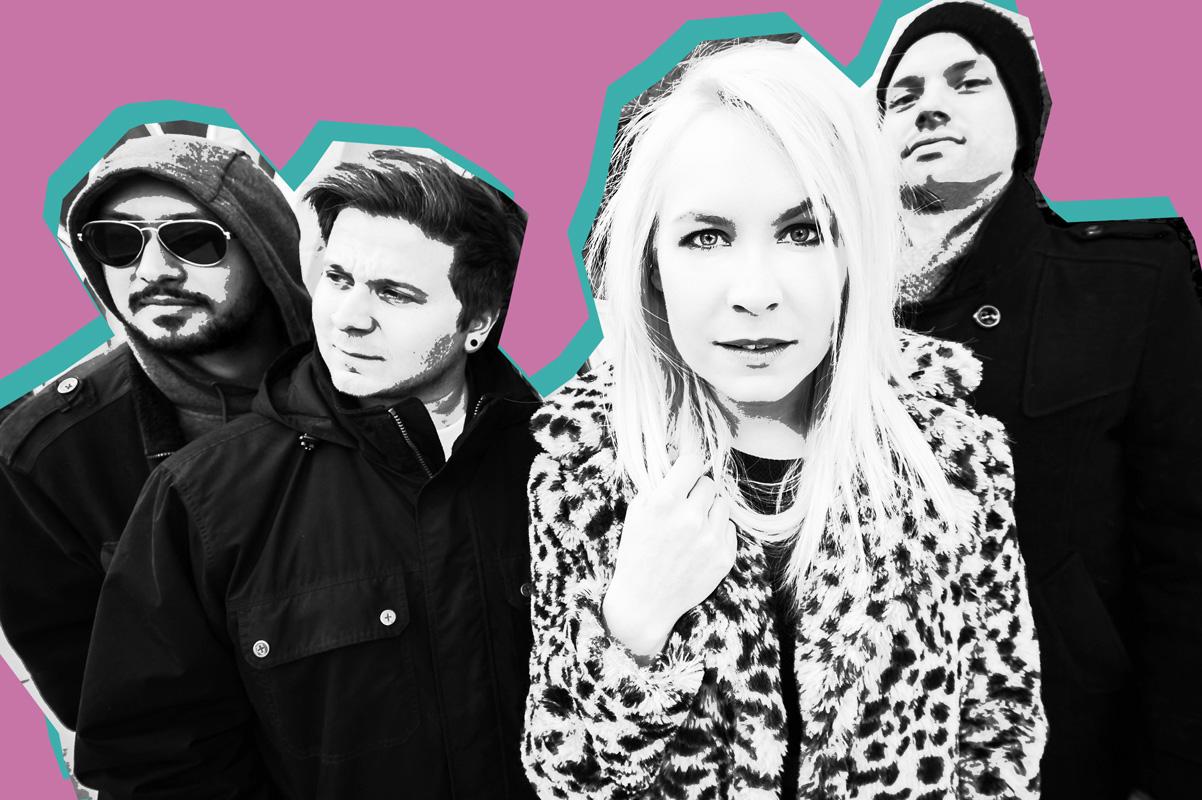 10 February 2021
Can we start with a bit of background. How did the band come together and what paths did you all travel to get to that place?
TJ: Our original lineup basically formed out of the remnants of two bands we were in in Tampa,FL, DangerFlight, and Blondes Not Bombs. Having all known each other from around the local scene, we all decided to make the move to Nashville to grow our careers. When DangerFlight started auditioning singers, they were originally looking for a male and things just weren't working out. I asked what they would think about letting me audition and the rest is history! We changed the name to The Nearly Deads, began writing our own originals, and then found the rest of the band on Craigslist!
Although you can hear plenty of rock and roll sounds and pop melodies in your songs, you are essentially making music in a punk style. Why do you think such a sound has endured for so long?
Steven: I think punk is an energy and mentality. So whether your musical "genre" is hip-hop, rock, pop or even classical; if you are going against conventional ideas with your music and or lyrics, you are incorporating "punk" into your sound and persona. It's fun and empowering to rebel and I think we all want a taste of rebellion at some point in our lives. Punk is here to stay!
Nashville is a city more associated with country music, what's it like to be making punk music in such a place and how strong is the scene there for what you do?
TJ: Nashville is an excellent place to hone your craft and cut your teeth, no matter what genre you find yourself in. There are plenty of rock, punk, and metal bands there. It's a shame that The Muse and The Rutledge are no longer around, but East Nashville is becoming the place to meet others in the more alternative side of things. Also, we have great support from 102.9 The Buzz and the fact that they do a local cuz every week and a locals-only rock show every Sunday really helps bands get their music out and hear about other local rock acts!
There is a great sense of fun to your music, do you agree that it is something that many artists have forgotten about along the way?
Steven: I don't want to speak for other artists because I feel "fun" is relative. You can go to a death metal show and from the outside, it might seem like the band is taking themselves very seriously and the fans are all pent up with anger, but maybe the musicians are having the most fun putting on that show and persona while the fans are having a blast releasing all that energy and rocking out. I can see how some of our music might be considered more light-hearted than other tracks out there. We've always made a point to not take ourselves or the music too seriously. We are fans of artists like Sum 41, Blink-182 and Less Than Jake and have always enjoyed the humor in what they do. We've incorporated some of that mentality into The Nearly Deads and, it seems, our fans enjoy it.
With the effects of the pandemic seeing bands largely cut off from the live stage and shared studio space, how hard has it been to remain creative and stay engaged with your fans?
TJ: From the beginning, we have always been mindful of our internet presence and are grateful to have so many followers and listeners from all over the world. About 5 years ago, I made the choice to move from Nashville to Rhode Island (where my finacé, who I met on tour, is from) so TND has been rehearsing and writing remotely for quite some time. It's been pretty great actually to see this become the norm. We were able to adapt to it pretty well and have almost been more engaged and more productive this past year than we have been in the past! Of course, we are hugely missing live shows, but we've known for a while now that you don't need to tour or play any live shows to continue putting out music, content, and videos. I miss seeing the fans face to face, I miss the energy of the crowd, and I can't wait until we are safely able to do so again. But for now, it's really working for us. Sitting around the house all day during the shut-down really gave us time to think about what we wanted to accomplish going forward.
And talking of fans, a whole army of fans, or Zombies as they have dubbed themselves, have gathered around the band, what do you think draws them to The Nearly Deads with such fanaticism?
Steven: We are definitely grateful to have the fanbase we do who have supported us for so many years, even through our hiatus. I'd like to think it's a mix of appeal the band offers. The hope is the music draws them in, but the positive community and supportive relationships between the fans and the band are what keeps them around. We've always tried to have a message of empowerment and want our fans to feel safe and encouraged to express themselves and pursue their passions. The Zombie Nation community is a place where they can feel that support from each other and our music.
And what does the future hold for the band as a whole and you as individuals?
TJ: We are so excited about the future! We have started the writing process for an upcoming full-length album, and we are launching our Patreon (https://www.patreon.com/thenearlydeads) as well. We plan to do more crowdfunding later in the year as a presale for the full length! So, it's going to be a busy year. Hopefully, we will be able to play some festivals and shows as well! Personally, I'm looking forward to getting married this year since my wedding was postponed due to Covid last year. We are all just excited to explore the people we have become now that we've been a band for so long. We have grown as humans, we've learned new things, and 2020 put us all through some very real challenges. Be ready to hear all about it on the album!
Thanks for taking the time to talk to us and good luck with everything for the future.
https://twitter.com/TheNearlyDeads
https://www.instagram.com/thenearlydeadsofficial
https://www.facebook.com/thenearlydeads
https://www.patreon.com/thenearlydeads