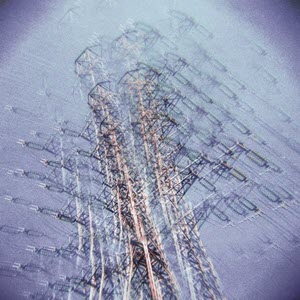 3 January 2021
Radio Supernova is a white hot, five piece shoegaze band from Tampere, Finland. There is little information to be had about this somewhat mysterious group, but it makes their sound all the more intriguing. Takaisin (Back) is their second full length, and what a phenomenal album it is. The band describe their music as "Mansegaze", which pays homage to the colloquial name of their home town. The band includes:
Inkeri Riikonen – Vocals, piano
Otto Kontio – Guitar, backing vocals (also plays guitar in Finnish psych powerhouse, Polymoon)
Henri Tuunanen – Guitar, synth
Riku Heikkinen – Bass, guitar
Tuomas Heikura – Drums (also plays drums in Polymoon)
This album is a sonic continuation of their gorgeous first album, Tahtiin, which was released by Soit Se Silti in 2019. The sound has sharpened a bit, perhaps indirectly related to the pandemic and related global chaos. There are eight tracks drenched in dream gaze and a post punk sensibility that will rock your corner of the world for a short time. While it may rain colder on your senses, there is always a warmth to be found at the core of these soundscapes. The band released two singles off this record last year, "Väkivaltaa" in September and "Eroosio" in November. The album itself streets on 15 January and includes these songs:
Side A
1. Tammikuu (January)
2. Väkivaltaa (Violence)
3. Vapaa (Free)
4. Kadoksiin (To Disappear)
Side B
5. Muukalaiset (Aliens)
6. Nyt (Now)
7. Eroosio (Erosion)
8. Utopia
Album opener "Tammikuu" starts off as ominous post punk with Riku's uber cool, chunky bass and razor sharp guitar that slices through the mix. Add in a kick ass melody and Inkeri's excellent vocals and you are caught up in international intrigue. Language does not matter to me, it's the music that electrifies and entrances me. These artists have a penchant for densely swirling and utterly captivating hooks. Move on to the first single "Väkivaltaa" and you will be similarly enchanted. I suspect that the group is monstrous in a live setting, if their studio recording is any indicator. "Vapaa" traffics in the Slowdive school of dream pop, with its crunchy and spaced out sonics. Vocals are perfectly in sync with the majesty of this song, as it unrolls like a red carpet. "Kadoksiin" is gorgeous and gauzy, and stylish in its execution. At one point, it almost sounds like the shriek of gulls in the mix. As it extends out, the vocals faintly remind me of Liz Fraser from The Cocteau Twins, who are no doubt one of the band's influences.
"Muukalaiset" begins with classic MBV-styled guitar squeals and jumps into high gear without delay. This song kicks serious ass and I guarantee some major head bopping as you listen along. "Nyt" is slow and graceful, balletic in structure and once again it reminds of Slowdive. Perhaps I imagine this connection, but no matter, it is gorgeous. I especially like the guitar work here. "Eroosio" is an obvious choice for a single, given its magnetic melody and lovely vocal work.
The final track "Utopia" is another favorite of mine, with its solemn piano and echoing guitar. I like its slow ascent and ultimate release of musical tension. There are some fine instrumental passages here, with celestial guitar figures and rain droplets of piano. Truly, this is a talented quintet who have started off this year on a very high note. Highly recommended for all fans of shoegaze, dream pop, psych, and post rock.
Catch up with Radio Supernova over on Facebook and pick up the album here.