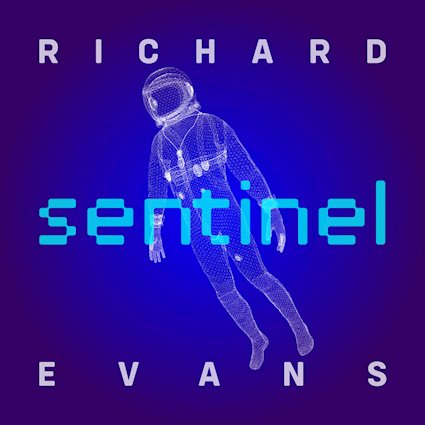 13 April 2022
As I probably mentioned when talking about the excellent "Made of Stars", the idea of music coming out of the more pop, dance, and electronic environs isn't usually expected to be deep and meaningful. That isn't its job. Its job is to be euphoric, accessible, and entertaining. So why has it taken so long for an artist to emerge from those quarters who has hitched his creative musical wagon to more potent and poignant lyrical exploration? I don't have the answer to that, I just know that the music scene and indeed the world, in general, is a better place for artists such as Richard Evans.
Not that you could refer to his music via labels as simple as pop, dance, or electronica and leave it at that without qualifying it by saying just how adventurous and forward-thinking it is, even whilst it evokes a whole host of past movers and shakers of the post-punk, synth-pop age.
But lyrically, or at least through the subject matter that the album tackles, is where Sentinel leaves the rest standing. electro-pop concept albums are, to be fair, a bit of a rarity, but then, electro-pop albums are rarely pulled off with this much conviction, creativeness, and aplomb. Drawing inspiration from real-world science, exploring biotechnology, machine intelligence, and the environment the songs deal with issues as important as the impact of microplastics to the paranoia of COVID; from the origins of life to global climate protests.
The single "Black Rain" is particularly relevant, dealing with issues surrounding the Hiroshima/Nagasaki atomic bombs even as we contemplate the possibility of such an event happening again in Eastern Europe, and "Made of Stars" discusses the idea that the building blocks of life coming to earth from the far reaches of space, that we are all, essentially, star stuff.
When did electronic music become so smart? I would suggest right around the time that Richard Evans started writing Sentinel!
Sentinel: Creating The Show
Vinyl order
Digital order
Amazon order