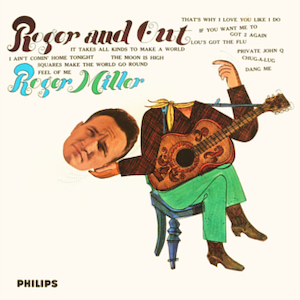 30 September 2022
One highlight of this year's reissues is the digital debut of 12 albums by the great country tunesmith and singer Roger Miller (1936-1992). Known for catchy novelty hits like "Dang Me" and "Chug-a-Lug," this Nashville mainstay was a deceptively complex artist, an irrepressible clown for sure, but also a thoughtful composer who used inspired silliness to temper a deep streak of melancholy, as well a tender, affecting crooner.
Roger and Out, the 1964 album that put him on the map, contains both those hit singles, which aren't exactly what they seem, despite the jokes and goofy vocal effects. "Dang Me" is the lament of an thoroughly irresponsible husband, while "Chug-a-Lug" feels like a prelude to the ravages of alcoholism. The Return of Roger Miller (not available yet) continued his winning streak and featured his signature hit, "King of the Road." This finger-snapping ode to life on the loose turns out to be the saga of a homeless man in dire circumstances.
Miller's hot streak continued with The Third Time Around, Words and Music, and Walkin' in the Sunshine. Highlights abound, from the heartbroken "Engine, Engine #9" and "Swiss Maid" (a hit for Del Shannon), on Third, the mournful "Husbands and Wives" and "Dad Blame Anything a Man Can't Quit," the tale of a hardcore smoker, on Words, and the jaunty grief of "Pardon This Coffin" on Walkin'.
The soundtrack Waterhole #3 (Code of the West) and A Tender Look at Love suggested that Miller's creative energies were flagging, but the next two offerings were solid efforts, although he was recording more covers and writing less. Roger Miller 1969 includes a fine Tex-Mex version of Kris Kristofferson's "Me and Bobby McGee," a country hit well before Janis Joplin's cover; Roger Miller 1970 offers the lovely nostalgia of "Tom Green County Fair" and a rollicking "Mystery Train."
A Trip in the Country, the sleeper of the bunch, is essential listening. If Miller was no longer composing songs at a furious pace, he still had a rich catalogue of vintage material from his early days to draw on. This remarkable set includes both solo compositions and tunes written in collaboration with George Jones and Bill Anderson, among them such Music City classics as "Invitation to the Blues" and "When Two Worlds Collide."
Two later albums, 1979's pop-oriented Making a Name for Myself and 1985's back-to-country Roger Miller offered mostly original material once again, signaling a strong creative resurgence.
Roger Miller's unforgettable songs have been recorded by everyone from Neko Case and R.E.M. to Dolly Parton and Willie Nelson. The digital release of these 12 albums provides a chance to discover (or rediscover) the man who sang them best.