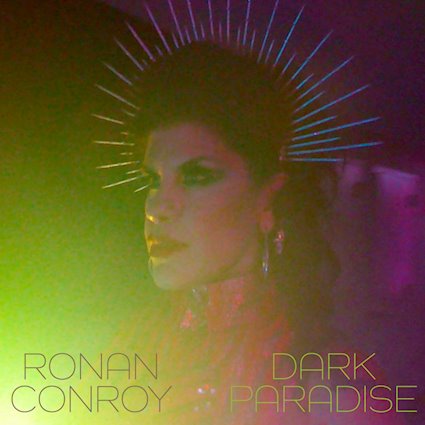 30 September 2022
If you imagine the space between those early New Romantic pioneers, before it all went a bit money fuelled and mainstream, and the more accessible, less theatrical and silly end of the 80's gothic movement, then it is in such a place that a song like "Dark Paradise" might have been conceived. That isn't to say that Ronan Conroy's music is in any way a pastiche or plundering of the past, but the urges that drive the sound he makes have been with us for a while.
But then you have to consider that "Dark Paradise" is a Lana Del Rey cover, an artist who seems equally driven by a rich, ethereal dream pop past that grew up alongside the sounds mentioned above and scenes.
So we have the perfect marriage of originality and re-invention, past and present sounds intertwined, dark and delicious urges and lighter, ethereal delicacy, sure beats, and floating sonics. Think of it less as drawing on the past, less purposefully nostalgic, and more as sitting at the end of the evolutionary sound curve instigated by those 80's dream weavers and night creatures, synth reinventors, and post-punk pioneers.
What an excellent rendition it is. And, like all worthy covers, Ronan Conroy instills enough of himself into the song to make an effort worthwhile. Where the original is light, airy, and slightly otherworldly, his version is dark, weighty, and shaded in the sense of atmosphere and unknown. It is also one of a handful of songs from the forthcoming album, The Slow Death of The LoveMyth, which he sings on, often preferring to bring in guest collaborators to take that part.
If you are going to re-imagine someone else's song, you need to at least bring something new, creative, and uniquely yours to the project. Otherwise, why bother? It is safe to say that Ronan Conroy has taken a recognizable tune and given it a new lease of life, a whole new array of possibilities and potential while taking nothing away from the original. That's how it's done, folks.
Album order/ Bandcamp
Spotify
Double Helix
Spotify