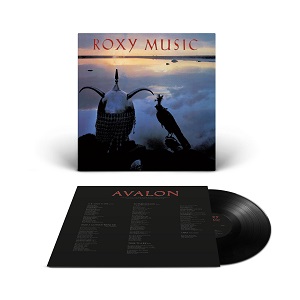 1 July 2022
As Roxy Music entered the 1980s, it's not clear if they knew they were in their home stretch. Having shifted from the iconoclastic rock & roll of their early/mid-seventies work to a slicker, adult-oriented (and commercially viable) new wave pop, the band – now a trio of singer/songwriter/keyboardist Bryan Ferry, guitarist Phil Manzanera and saxophonist Andy MacKay – had set aside many of their quirks and most of its adventurousness to become a group of working professionals, rather than a gang of rock radicals. That doesn't mean the Roxys were incapable of releasing quality material, however – just that the motivation behind the music may have changed. Their final studio albums, Flesh + Blood and Avalon were two of their most successful. But to some quarters of their loyal audience, they were unforgivable commercial compromises.
Issued in 1980, Flesh + Blood is an oddity. While Ferry had long included covers on his solo records (indeed, they were usually the centerpieces), they were absent from Roxy albums. Flesh + Blood, however, contains two of them: Wilson Pickett's soul classic "In the Midnight Hour" and the Byrds' powerhouse "Eight Miles High." "Hour" gets a very straightforward reading, with the band sticking to the original arrangement and Ferry smartly not choosing to emulate Black American singing. "Miles," by contrast, gets a weird but intriguing funk rock makeover that's likely superior to any attempt the Roxys could've made at the original's apocalyptic fervor. The songs' inclusion doesn't seem out of line, given Ferry's history and the obvious reverence the members have for them. Yet, they're still a strange fit, feeling less like deliberate choices and more like filler to make up for a songwriting deficit. Otherwise the band favors a smooth, atmospheric funk, driven by grooving basslines, painted in synths, and sung by Ferry at his most reserved, effectively making his voice part of the tracks' overall texture, rather than the focal point. Some tracks overextend their welcome, but when it works – "Flesh and Blood," "This Strange Delight," the single "Same Old Scene," which essentially invents Duran Duran – it can be mesmerizing. Elsewhere, the top five British hits "Oh Yeah" (lighter-waving ballad) and "Over You" (rhythm-driven pop rock) reach heights (depths?) of romanticism previously unknown in the Roxy aesthetic. The songs' inherent craft bravely battles the sometimes overweening sentiment – a formula that obviously worked, given the tunes' success. Is this Roxy at its most emotionally open or its most pandering? You decide. Slick, unchallenging and easy on the ears, Flesh + Blood feels slight compared to the rest of the catalog, but the band's usual dexterity pulls it back from the brink of facelessness.
The final Roxy Music studio album to date, 1982's Avalon has been hailed as both the band's final abandonment of its original principles, and as the group's finest record, primarily with American critics (and audience – it's Roxy's only Stateside platinum album). Even more than Manifesto and Flesh + Blood, Avalon is the album on which Roxy firmly entrenches itself in the world of hip adult contemporary pop – what would eventually be called Triple A. One might even argue, in fact, that it's the group's apotheosis in that arena. The band sits comfortably within certain parameters: no loud guitars, no brash subversion, pop hooks that insinuate rather than shout, production so smooth it's easier to compare to buttercream frosting than anything sonic. Within those parameters, however, Ferry, Manzanera, MacKay and their regular sessioneers locate a sense of genuine inspiration. Surveying the new wave hordes they inspired (particularly Japan, the Blue Nile, Duran Duran and Spandau Ballet), the band beats them at their own game with songs like "The Space Between," "True to Life" and "Take a Chance On Me." The shimmering "While My Heart is Still Beating," the funky "The Main Thing" and the gorgeous title track highlight the group's talent for bringing aural atmospherics to colorful life. The culmination of the previous LPs' ideas, "More Than This" becomes one of the Roxys' most glorious singles, a deserved top 10 hit in the UK. There's the occasional sense of opportunity lost – "India," presented as a brief instrumental, has melodic ideas worth pursuing in full, while Manzanera and MacKay serve more as aural textures than featured players. But overall Avalon is easily the strongest of the Roxys' "comeback" LPs, and a real highlight in their entire catalog.
Following the subsequent tour, the Roxys split, with Ferry refining the final albums' sound even further in his solo career (to great commercial heights), while the rest went on to lower-key solo and session careers. There've been occasional tours and concerts in the last four decades, including a fiftieth anniversary tour beginning in September, but there's been no (released) studio work since 1982. And maybe that's just fine. Why tempt fate and attempt to recapture inspiration that's decades in the rearview mirror? Besides, this is a catalog that's quite handily stood the test of time, and still sounds fresh and exciting today. Roxy Music began and ended strong, leaving behind as strong a body of work as any artist in rock, and those are worthy laurels on which to rest.