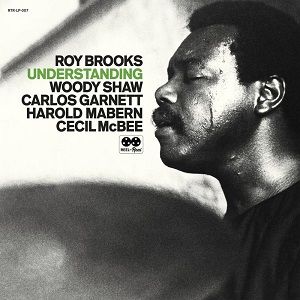 23 July 2021
Late drummer Roy Brooks smacked the traps for a good forty-plus years, with a list of employers to die for: Yusef Lateef, Sonny Stitt, Chet Baker, Charles Mingus, Stanley Turrentine, Shirley Scott, Blue Mitchell, Abdullah "Dollar Brand" Ibrahim, John Wright, Max Roach's M'Boom and more. Most famously, he kept time for the Horace Silver Quintet as the pianist's group reached its apex of fame, playing on the classic 1964 LP Song For My Father. In between those gigs, the Detroit native made a handful of records as a leader, including the time-honored The Free Slave (1972) and Ethnic Expressions (1973).
Documenting a 1970 performance recorded by the Left Bank Jazz Society at Baltimore's Famous Ballroom, the two-disk Understanding resurrects a magnificent Brooks gig from the vaults. The drummer put together a monstrously talented band for the show captured here, including trumpeter Woody Shaw, saxophonist Carlos Garnett, pianist Harold Mabern and bassist Cecil McBee – all leaders in their own right. The combo explodes right out of the gate with "Prelude to Understanding," twenty-plus minutes of action-packed improvisation around Brooks' post bop melody. Shaw and Brooks power the engine with atomic fire, but everyone gets a chance to shine. That leads, naturally enough, into the title track, another twenty minutes' worth of bop melody and extemporaneous riffing. This time the pace is (slightly) more relaxed, with more overt swing and exceptional solos from Mabern and McBee. With no break between tunes, that's forty minutes straight of sheer jazz power. Brooks and company end disk 1 with an epic take on Charlie Parker's jazz standard "Billie's Bounce," a challenge for any horn player, but one Garnett and Shaw are perfectly capable of meeting. Mabern and McBee swing behind them, while Brooks drives the beat mercilessly.
Disk (and set) 2 begins as did "Prelude" on the previous disk – with a crashing drum intro. That launches the group into Shaw's "Zoltan," another damn-the-torpedoes blazer with its composer in the lead. Long one of jazz history's most underrated trumpeters, Shaw attacks the head like he's playing speed metal, but his pals keep up with little effort, especially the fleet-fingered Mabern. Maxing out at over a half hour, Garnett's "Taurus Woman" slows down the tempo from breathless to merely quick, its A-B format inserting some airiness into the wall of sound. That doesn't mean a dip in intensity, though. The tune's composer really brings the fire here, packing enough energy to blow the top off a volcano into the first ten minutes alone. With his fellow horn already at stampede level, Shaw opts to blast out his phrases in short bursts, building up to elongated onslaughts before powering back down, masterfully manipulating tension and release. Mabern picks it up from there, soloing with one hand and comping with the other, setting up space about twenty minutes in for Brooks and McBee take over with cowbell and a bass solo to spotlight pure groove. After Brooks once again treats his cymbals as if they owe him money, the combo comes back together, Shaw and Garnett weaving their horns together in a dense thicket of notes, as Mabern, McBee and their boss keep the rhythm at full tilt.
You'd think after that Brooks might slow things down, take the audience out on a gentle note. But you'd be wrong. The only consensus the bandleader makes for this take on Miles Davis' beboppish "The Theme" is to keep it short – at 4:32, the final cut is the only song on the program that's under twenty minutes. What's equally impressive is that, at over two hours of consistent fervor, Understanding never becomes numbing. Its high-level musicianship and uncompromising leadership keeps these incredible performances persistently compelling.