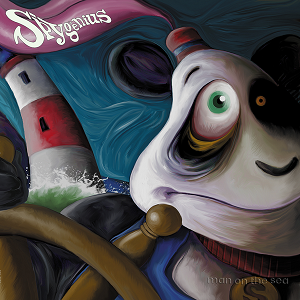 7 July 2020
The UK based outfit SPYGENIUS are about to unleash a mammoth double album, Man On The Sea (July 10). A set of seventeen brand new tracks that are warm, and energetic, enjoyable and unashamedly entertaining. This four-piece are intense, a three way collision of R.E.M, Tom Petty and the Beach Boys. With enough talent onboard to bring a unique charm to everything they do. At times, treading the boards of folk rock, power pop, and psychedelic dream pop, all with a very distinctive charm. 
Following on from the banging Pacéphale, Man On The Sea wastes absolutely no time letting loose. "Another True Story" opens with a sea shanti before exploding into a world of exploration. A definite winning start, that segues into "Albion", a more restrained approach, with plenty of drama attached and a very chilled sound. "If You Go A-Roving" is simply infectious. With brash, chiming guitars that float along a cloud of sublime voices. The vocals are powerful, direct but appealing, which carry through to the theme of "Salaud Days". A brisk pace, and more melody per square inch than most of modern releases. 
That focus on melody is important as all the factors of the four piece mesh perfectly, blending. Shown fully on the latest single  "Cafe Emery Hill", is bouncy, and energetic. With that definitive style that is so far removed from most British outfits, though the vocal lines of Peter Watts are wholly English, along the lines of Mike Scott but set against a sound this is authentically Stateside. 

Those folky musings rear their head in the excellent, celtic fused "Dolphinarium 1986". A classic blast hinged in an era which at times is neglected. "Man Overboard" again has that restrained pace, acoustically fired and full of atmosphere. The return of those nautical themes returned with whale singing before a clatter of drums and "Green Eyed Monster" springs to life. A full leap in direction from the first set of tracks, changing moods, styles and still sounding like
SPYGENIUS
, not an easy task but it works here. 
Things return to connect with earlier sounds on "Don't Blame It On Your Mother". Not as light as you may think, infact one of the more serious takes on the album. The band slips into an Americana framework with "Midnight Bandola", which echoes of early-seventies Stones. SPYGENIUS' first lick from the album, "Spite", was a double edged single, giving a view into the album and donating to the Matthew Seligman Tribute Fund. "Spite" is a blistering cracker, wrote, and sung by bassist Ruth Rogers, it  rolls with wry vocals and a wall of melodic guitars. "Windy" pulls back into the conceptual momentum of the album. Revealing more of that self-discovery message which subtly runs through  Man On The Sea. Which leads to the finale, "Remember Me When I Was Good". A whistled, ukulele piece akin to *George Formby before becoming more 21st century, with a heartfelt poignancy that sticks in your senses. 
This album is long, but it is not boring, nor dragged out with filler. Man On The Sea is a beautiful piece of work that blends together effortlessly, experimenting with sounds and nailing an idea spectacularly well.
Tracklist; 
Another True Story
Albion
If You Go A-Roving
Salaud Days
Tomorrowland
Cafe Emery Hill
Dolphinarium 1986
New Street
Man Overboard
Green Eyed Monster
In A Garden
Don't Blame It On Your Mother
Midnight Bandola
Spite
Watch Your Back
Windy
Remember Me When I Was Good
For more info and to Pre-Order:
Website#!
Facebook
Twitter