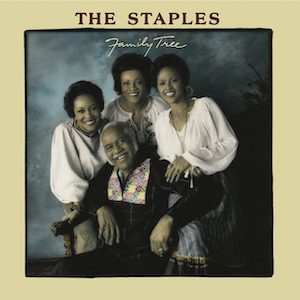 6 July 2020
In the first half of the '70s, the venerable family gospel group The Staple Singers became unlikely pop and r'n'b stars, thanks to catchy, uplifting hits like "Respect Yourself" and "I'll Take You There." But the mid-decade demise of Stax Records in left them in need of a new home. The Staples subsequently took their joyous music to Warner Bros., where they released a quartet of albums from 1975 to 1978.
Now, the inventive reissue label Omnivore has revisited these four titles, adding single edits as bonus tracks. If the various producers don't always do full justice to the group, sometimes catering to the trends of the times (such as disco) at the expense of the family's natural exuberance, there's no obscuring the grit and grace of Mavis Staples' lead vocals, which never fail to electrify.
Curtis Mayfield assumed the producer's chair for Let's Do It Again, the soundtrack to the Sidney Poitier-Bill Cosby film, and Pass It On. At their best, both albums are a true collaboration, blending the Staples' old-school fervor with the taut funk Mayfield pioneered on his stirring score for "Superfly." Among the highlights: from Let's Do It Again, the sultry title track, and the rousing testimonial "I Want to Thank You"; from Pass It On, "Making Love," a slow-burning gem, and the soaring "Take Your Own Time."
Rebranding themselves The Staples, the family handed the producer's reins to Eugene Record of The Chi-Lites on Family Tree. While anyone familiar with his polished crooning on the Chi-Lites hits "Have You Seen Her?" and "Oh Girl" might fear an overly sweet makeover, the end result is a pleasant surprise, featuring hard funk and unexpected twists. Olivia Newton-John's "I Honestly Love You" becomes a churchy meditation, while "Color Me Higher" sizzles. The swaggering "Hang Loose" provides a rare vocal showcase for patriarch Pops Staples, whose magisterial singing and shimmering guitar tend to get lost in the shuffle on these albums.
For Unlock Your Mind, The Staples returned to the studio in Muscle Shoals, scene of their Stax hits, and teamed up with producers Jerry Wexler and Barry Beckett, who took a rootsier approach. This enjoyable hodgepodge includes a smooth, albeit soulful, take on ELO's "Showdown" and a jaunty update of the blues classic "Mystery Train." Between a rollicking "Handwriting on the Wall" and the tender "God Can," The Staples show they can flourish – as always – in any setting.