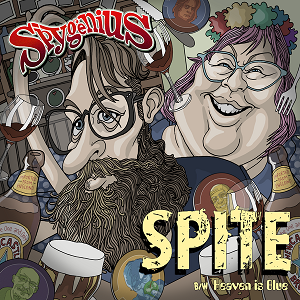 23 April 2020
Music has the power to bring people together, and even heal emotions. In this current climate, we as society face one of the greatest challenges of our lifetime, an invisible force in the form of a virus which is devastating the global population. Now, more than ever we need a lift, an escapism, even for a few minutes. 
With that in mind, the vibrations of quality sounds are the one thing we can wrap ourselves around. SPYGENIUS know this too well, and are hitting the ground running with a light-at-the-end of the tunnel in "Spite". The UK based outfit, have unleashed a track to lift the spirits, an insight into their double album, Man On The Sea. But, like my opening statement this is more than just a flare in the pandemic darkness. Last week, the world lost the talent of Matthew Seligman. Who, lost his battle against this bastard virus. He is only one of many musical figures who have succumbed to the illness, displaying how it does not discriminate, and everyone is susceptible. 
However, SPYGENIUS have gone a step further. All proceeds from the "Spite" single will be donated to the Matthew Seligman Tribute Fund. A campaign organized by the late bassists' friend Thomas Dolby to help Matthew's dependent family to cope with his loss. Noble, and an undeniable tribute to the hardship that the music world is facing. Whilst many speculate how music will change post-covid-19? The real question should be what void will be left by the talent it takes? 
The single "Spite" is a blistering cracker. Wrote, and sung by bassist Ruth Rogers, "Spite" rolls with wry vocals and a wall of melodic guitars. SPYGENIUS lead singer and songwriter Peter Watts called the Beatlesque 'B' side "Heaven Is Blue" "a dive into the murky waters of pastiche." It does stir those White Album feelings, but it's achingly brilliant, layered in a bluesy arc of emotion. Both songs hit the right, resonating note in this current climate, with a mission statement to help those loved ones left behind by an enormous talent who will be sadly missed. It is food-for-thought and the hope in humanity. 
To Donate To Matthew Seligman Tribute Fund;
Donate
Due April 24th, To Download "Spite": 
Website
Facebook