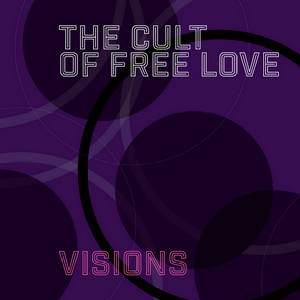 28 September 2020
Visions is the second release from this international collective whose members reside on three continents. It also signals a return to the newly resumed psych label, Northern Star Records. The band may remind you of well known acts such as Chemical Brothers or Primal Scream. It is dance music that occasionally dips its toes in international waters, which ushers in a whole other layer of complexity to these grooves. I never exactly know how to review largely instrumental music, for it has to touch me on a deeply emotional level before I can emote what feeling it actually draws out. The Cult of Free Love skates closer to the surface for this listener, and that is OK.
The title track is first out of the gate, and I find myself nodding at its somewhat familiar beats. It evokes music I have heard before, and it is trance inducing. "Transcendence" is somewhat akin to Delerium. I would not be surprised if Lieb and Fulber from that band had their hand in this, though I know they don't. "…And The Sun Shall Rise In the East" is a pleasant sonic interlude, and I appreciate the chilled out grooves. I also like the heavy guitar riff that appears after the two minute mark. "Stardust" is cosmic dance pop for cool aliens bopping out in the ether. It is trippy head music to be sure. "Everybody Wants To Go To Heaven, But Nobody Wants to Die" is solid work, expertly meshing dance beats with a paisley-tinged psych overlay. "Hiraeth" is the final song in this set, and is also the shortest in length. It veers closer to ambient post rock, and is quite stirring. In short, this is a very upbeat and fun listen from this group. I look forward to future endeavors.
Catch up with the band over on Facebook or check out their Bandcamp page.